This past weekend summer began for the Van Fam. According to the calendar hanging above my computer there are still 51 days before the actual first day of summer - but to this family - IT HAS BEGUN!!!
What brings summer to this family so early? Why, the boat of course. This was the first of many weekends we will spend out on Lake Somerville. The weather was beautiful and the water...well...it'll warm up.
We are a water-lovin' family. Over the course of the next 5 months, there will most likely be many posts about water-related activities. We would spend every waking moment outside in the water if possible. JD wouldn't object that's for sure. The Lord has blessed us with a son who share's his parents passion, maybe even more so. He not only loves to be outside, but would sit on the top step of the pool all day if we'd let him. Though - the wrinkly fingers do still freak him out a bit.
This summer on the lake will be a bit different though. You know - being pregnant and all. Let's see...there will be a little more bathing suit coverage going on. I'm not one of those blessed with the beautiful pregnant belly because my belly button turns into a third eye and threatens to attack anyone
who
gets close. This means more bathing suit lines as well. Of course, there will also be more suntan lotion used this summer - and not just because I'm expanding. My skin seems a bit more sensitive this go around. Ahh yes, and one of my personal favorites - there will be a bit more on top, if if you know what I mean. I've been blessed with many things, but cleavage is not one of them. I'd like to take a minute to personally thank Victoria's Secret for all they've done for this girl and her lack-of boobs - the Very Sexy Infinity Edge is really something. Ok, enough of the boob-talk, this is a family blog. BUT most of all, the NUMBER REASON this summer will be different - it's gonna be a little less eXtReMe!!
A less extreme summer awaits me. It's something I'm coming to terms with and I am dealing with it the best way I know how. I pout a little and make everyone else feel bad for getting to do all the eXtReMe stuff I can't. It will stop soon guys - I promise. This means no crazy tubing, no wild skiing, and most of all - NO wakeboarding *tear*. I'm force to sit on the sidelines while Aylie, Jimmy, and Nick attempt all the fun tricks I'd hope to master this summer. So guys...good luck. I wish you all the best. And I hope you all wake up every Monday morning hating life because you can't move your arms and your back feels like an elephant sat on it!!! Hee Hee!!
Oh yeah, and the kids had fun too. Here are some great pictures!!
JD and Nicky (JD's cousin who's 6 months older)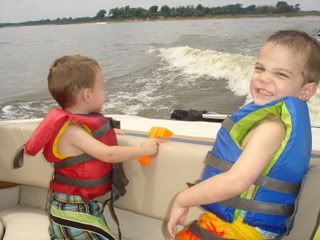 Uncle Jimmy and Nicky driving the boat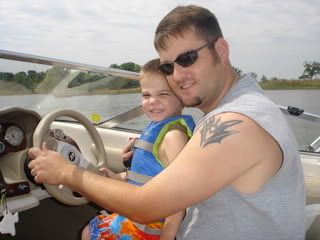 My Sweet Boy
JD in the water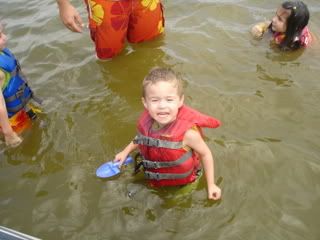 My precious neice, Alexis, tubing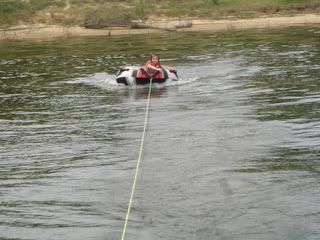 My VERY sexy Hubby wakeboarding
Being as eXtReMe as I can be!!
(the plus side to a less-extreme summer is you get to wear your hat while tubing, therefore hiding your uncombed lake-hair)