Holy Moly Stroll-la-moni! That is JD's version of holy moly. Where did holy moly even come from? Can y'all believe it's December 1st? I know I can't but I am sure glad it is. I la-huv this time of year. And the fact that it's actually cold in Houston (REALLY cold right now) makes it that much sweeter. I am not sure what makes this year so much more exciting or maybe I am this excited every year and just forget, but I am all about the Christmas spirit this year. I am sure it has something to do with the kids and how JD totally gets it this year and even though MacKenzie doesn't, she is so filled with the awe of it all. I can't quit smiling and talking about Christmas because I am so happy it's here. Jimmy thinks I am a total dork but I know he's enjoying it as well. He can't fool me!
But before I get carried away with the Christmas talk, I want to recap our wonderful Thanksgiving.
Not from Thanksgiving but one of my faves from this fall...
Another one not from Thanksgiving but the Priss at her Pumpkin Patch at school...that smile never gets old.
Oh, and one from the pumpkin patch up the road with my sweet Nana and precious babies.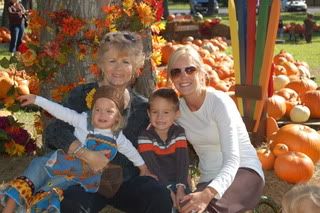 So this Thanksgiving was my FIRST time to ever play hostess. I busted my tail getting the house all ready for the big day! Which for some would be pure stress but I'm all kinds of OCD-preassure-lovin' wierd and I think I actually enjoyed it. LOL. Anyways, alls got done and Thanksgiving was WONDERFUL! Seriously. I didn't take very many pictures but here are a few...
My DELICIOUS turkey. I think it might be the best I've ever had in my entire life.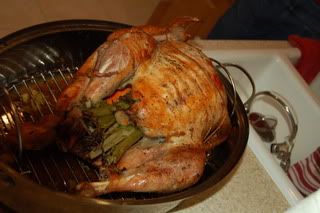 My plate of food.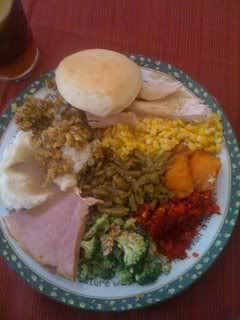 roll, turkey, southern-style creamed corn, sweet potatoes, southern green beans, cranberry salad, broccoli salad, ham, mashed potatoes with gravy, and dressing with gravy. YUMO!
We had a wonderful day and it was spent with family that I love so much. It left me feeling so completely blessed and thankful that not only do I have such wonderful parents (and even though Tim is technically my step-dad, he's such an amazing father to me and grandfather to my babies) but I have been truly blessed to marry into such an amazing family. I know how uncommon it is to have one BIG GIANT family that loves to all be together. I LOVE so much that we don't have to split holidays up with our family here. I love that we can all get together and it's perfect. I am TRULY blessed and just so incredibly greatful for all God has given us.
And how do you end a PERFECT Thanksgiving you ask? Black Friday! Do you know that this was my first REAL black friday experience ever? Sure, I've done the shopping during the day on Friday but I have never been one of those crazy people that stay up all night to shop. This year, Jimmy and I did it together and it was so incredibly exhausting but FUN at the same time. We went to the outlet mall at midnight and then hit Walmart at 2:00 where we shopped until 5:00 when we could finally checkout. We weren't out of there until 6:30 - the sun was a-risin'. Oh, but we had a good time together. I think it's something we'll do every year from here on out with ONE exception. We will have someone keep the kids for the first half of the next day. Staying up for 24 hours straight and then parenting is NOT fun. But we did get some killer deals and a new flat screen for our bedroom!!!
We spent the rest of Friday takin it easy. We did go get our tree but didn't decorate it or anything. Saturday morning we got up and headed to Saratoga to do Thanksgiving with Tim's family. It was so much fun and as usual, the kids had a blast in the country. Bless JD's heart. He's truly a country boy stuck in the suburbs!! Here are a few pictures...
JD playing in the country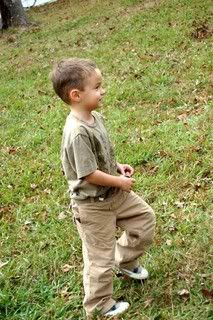 Mac WILL NOT be left out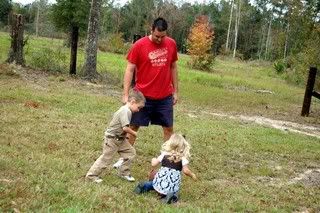 My sweet boy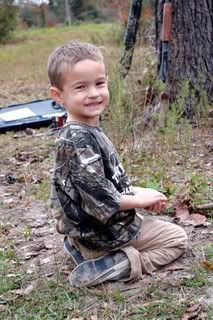 The boys shooting skeet
JD and his blackcats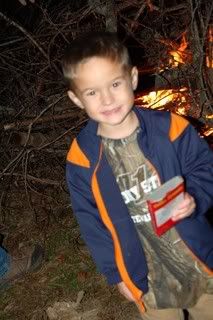 Kenz not liking them so much
The girls enjoying the bonfire
He picks up sticks the entire time - he's my workin' man!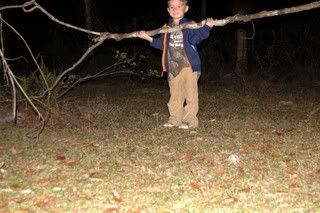 Shan and Mac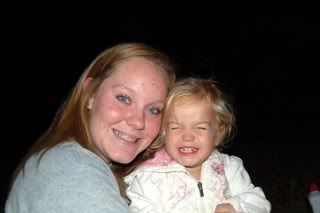 Well. That's all I got for now. I am gonna try really hard to post some pictures of the new house in the next few days.
For now...hop on over to my wonderful mommy's blog. She'll get you all in the Christmas mood!
http://thegannonfamily.blogspot.com/