Yes...I realize it has almost been a month since I have posted anything. I just don't have the urge to write much. I will give a quick update though...
Things are great! I can honestly say I now feel pregnant. God has truly blessed me with this pregnancy and gotten me through 8 months feeling pretty darn good. It's just been in the last week that I really feel like a pregnant person. I'm finally tired and pretty worn out in the evenings. I am so far past enjoying the extra 20 pounds though! I can not wait to be somewhat skinner!!!
MacKenzie seems to be doing well. I am now 33 weeks and she's moving around like crazy. I had a doctor appointment on Thursday of last week and things look good. My cerclage is holding up nicely and bp and baby's heart beat sound good. My cervix has started to soften so my obgyn wants me to take it easy. Yeah right. Try explaining that to a 2-1/2 year old. I go back a week from today (next Monday) for a full ultrasound...I can't wait! This pregnancy is so different than mine with JD. It's strange to have a normal pregnancy after the rough one I had with him. I had an ultrasound all but 2 appointments from 22 weeks on, so not seeing this precious baby every 2 weeks is odd. I pray she is still a girl. If not, I hope he likes brown and pink!!
The nursery is almost done, and should be finished completely this weekend. We are just waiting on the border and a few decorative pillows. I also have a bunch of knick-knacks to hang up. I will post pictures when finished b/c I just love it!!!
JD is also doing well. He's hit a bit of a fussy-stage and by the evening time I'm on the verge of pulling all my hair out. That being said, he is so much fun. My gosh, that child is hilarious!! He's back in MDO and loving it. We've had to adjust our MDO timing so that we arrive to class about 5 minute early. He's in a class with a bunch of newbies and 4 of these newbies cry...errr...scream A LOT. We have to beat them to class or JD will not go through the door. Who can blame him? I would not voluntairly walk into a classroom of screaming toddlers either!
Everyone else is doing good. We have entered fanatasy football season and that's pretty much alal Jimmy has talked about all weekend. That and the Texans. And the Longhorns.
We did take JD to an Astros game on Friday. He had a BLAST!! I was looking so forward to buying him all the junk food he wanted. Turns out, JD does not like ice cream (only popsicles) or cotton candy. How again is he my son? Here are a few pictures from that...
My Two Favorite Boys
Watching the game
Cheese
Dada and JD with JD's new baseball bat
Mommy and JD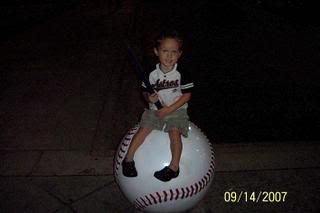 JD after the game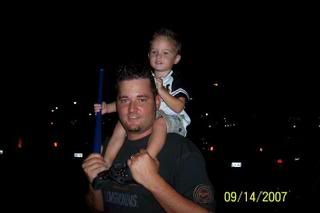 Like Father, Like Son