What a 48 hours! If any of you have read this blog for more than a day, you know I have a
very
adventurous 2 year old on my hands. There are days that this is a wonderful thing and days it's a very exhausting ordeal. It's amazing at times, because he is soooo curious. He loves to see how things work and has no problem entertaining himself.
A lot of days, this leaves a lot of cleaning up to be done. Today was one of those days.
Before I continue, in my defense, I do watch my child. Jimmy and I both do for that matter. The below messes all happened within the last 48 hours and in a matter of SECONDS!!!
Mess #1 - Last night while I was trying to get some work, JD stripped off his pajama bottoms and diaper and ran around naked. This in itself is nothing unusual, unfortunately what followed left mama in tears. JD peed ALL OVER my brand new (purchased on Sunday) red comforter! there was so much pee it puddled. I was in tears and did not take a picture! JD also went straight to be so that I didn't loose it too much with him!
Mess #2 - This morning while I was trying to finalize some weekend camping info with my mom, JD attempted to make breakfast. On the living room end table. I had already gotten out the eggs and left them on the counter. JD took them from there and started cooking in the living room.
The dogs enjoyed as well.
I caught him with the windex trying to "clean up"
Mess #3 - Once again I have no picture because you can't quite capture CK Euphoria on camera. He emptied half of my perfume bottle on himself. Oh, and he definitely goes over the 3-squirt limit!
Mess #4 - JD decided he needed to spice up his look and attempted to put mascara on himself. He only managed to get one eye done before being caught!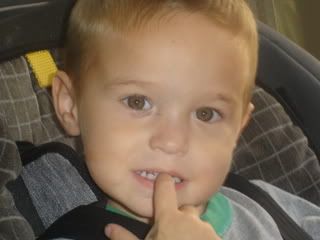 Mess #5 - He had so much fun attempting scrambled eggs at breakfast that he decided to play some more. He has learned to open the fridge - and oh what fun it is!!!
As you can imagine...8:30 couldn't come soon enough! I am off to enjoy some tv with hubs, messy-child-free!