I'm sure all of you are just on the edge of your seats, dying to know what this baby is. Of course, that is if you didn't receive one of the thousand text messages Jimmy sent out Friday or if you didn't receive the mass email I sent out!! Don't be sad if you didn't get one my bloggy friends - this post is just for you!
It's a GIRL!!!!!!!
I'm going to have a sweet little baby girl. I can hardly believe it. I think it's finally hitting us all, 2 days later!!! Today I bagged up all of JD's newborn clothes and placed them in neat piles for all my preggo friends having boys!! I was so excited to get rid of them, knowing I'd get to shop for pink stuff this go around! I of course saved my FAVS from JD's baby days!!!
So, my doctor appointment went well Friday. We obviously found out the sex (a girl if you didn't catch the pink type above), and we now know that my official due date (after all the measuring) is November 7th. We got some really cute pictures that I'd love to share as well!!!
Here are *her* adorable feet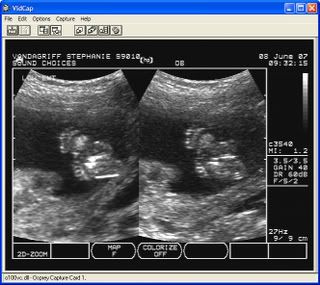 and her precious (or skelator-like) face
and a sweet profile shot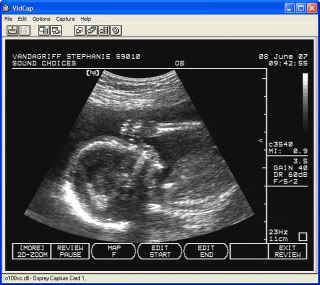 And here's one proud momma showing off her bump!!
We also found out some less than thrilling news on Friday. I've been diagnosed with partial placenta previa. Which, in short means my placenta is partially covering my cervix. At the present time, it doesn't seem to be causing any major problems, but the third trimester will be the riskiest. It's pretty common to start bleeding at the start of your third trimester, and as long as they can stop the bleeding I'll be fine. If the bleeding can't be stopped, then the baby will be delivered, regardless of gestational age. We are obviously praying this doesn't happen, at least not until the 35th or 36th week!!! At 37 weeks, if I haven't had the baby, I will be scheduled for a c-section. Fun stuff, I know! Needless to say, we are in high spirits. I fully trust that God would not have brought us this far and gone through what we've already gone through - unless we were gonna have a healthy baby girl!! That being said, please keep me and this precious baby girl in your prayers!!!
So...that's about it for now!! I'm gonna enjoy the next few months with my sweet little man. I'm unsure as to whether I'll be put on bedrest at 28 weeks, so until then JD and I are gonna take it easy while still having fun!!!