No...I did not fall off the face of blogger. I don't really have a word that can quite capture what my last week and a half has been because busy doesn't even come close.
Friday was our VanMor Open House. This is the company I work for and we recently moved offices, so Friday we invited all of our board members and vendors to a very well thrown open house. Jimmy and I went with our monkey and he actually did fairly well.
Once I left the open house I went straight home and changed into something comfy and met with Nicole to decorate for Kate's Baby Shower. The Baby Shower is what pretty much consumed every minute and ounce of energy I had for the last two weeks. We decorated the BEAUTIFUL club house in Nicole's neighborhood until midnight and then I took my tired and very drained booty home!
Saturday I went NON-STOP, but it all paid off. Kate's shower was just beautiful. Kate is a dear friend of mine that I've known since junior high. She's expecting her first little one - a boy - in August. She's that girl you just can't quite picture doing the mom-things but know she'll be great at it! The shower was a huge success and she got some really great gifts!
Here are a few pictures of our mommy-to-be!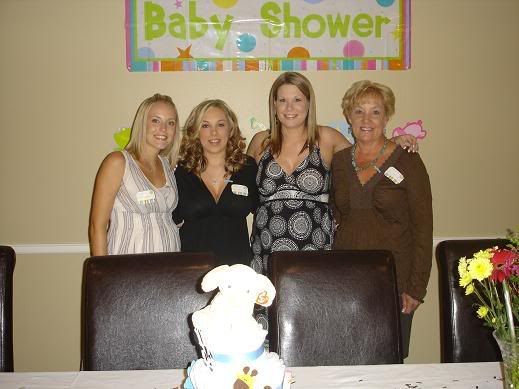 This is Me, Nicole, Kate, and Judy (the 3 of us threw Kate's shower)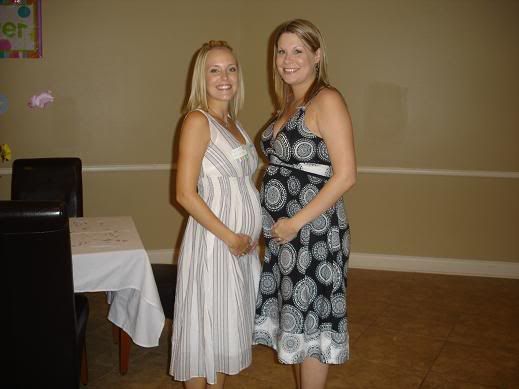 Kate and I comparing our belly's - she does have a few months on me!!
Sunday was Father's Day. I tired to postpone it because I was exhausted and it rained all day making it the PERFECT lay-on-the-couch and watch The Astros kind of day. But...no luck. We cleaned all morning b/c my husband loves to invite people over without checking with me first. I typically have NO problem with this, but my house had been neglected 7-days straight while I scurried around town for the shower! Thanks love...
We had a wonderful evening after the cleaning was done. We had all the family over and we cooked out and the guys swam with the kiddos once the rain stop. I think Jimmy had a pretty good Father's Day. As much as that man can drive me CrAzY - he does deserve a wonderful Father's Day! He's an incredible husband and a wonderful father! I am sooo incredibly lucky!!
Which reminds me, I am just overjoyed with how excited he is about this sweet girl in my belly. Originally Jimmy didn't really care what we were having. He always thought it would be neat to have all boys, but he also wanted me to "get my girl" as he put it. So, I didn't expect him to be as excited as I was in finding out she's a she. Boy was I wrong! He is SOOO excited. It's the sweetest and sexiest thing ever! He was very excited about JD, I took pregnancy test after pregnancy test because he wanted to be sure and wanted to see the '+' sign appear again. This time...he is but maybe even more, or maybe it's just a different excitement . There's such a sweetness to it. It's indescribable! He is all about going to look at nursery stuff and just LOVES everything I pick out. First of all, that never happens. Second of all, I'm picking out some GIRLY stuff. We're talking pink everything, lace all over the place, toile accents everywhere and he LOVES it!! He's ready to decorate today! I'm having to make him wait so that I don't go crazy having a nursery with no baby for 4 more months!!! Haha...but I am blessed. It's so wonderful to be excited with someone who's just as excited as you! Thank you Lord. I'm not only getting my girl, I'm getting to watch a macho-man fall head over heels in love with his daughter!!!