Today JD and I visited quite possibly one of the neatest (and cheapest) kid-approved places in Houston (maybe even Texas)! Along with our playgroups (we are in 2); JD, Matt, Logan (Matt's BFFE) and I went to the Oil Ranch in the good town of Hockley, Texas.
I vaguely remember visiting this ranch years ago, but don't remember it being near this fun. Part of the fun was watching my sweet one love
every minute
of it. I had great company (I l-o-v-e the women in my playgroup) and JD was in his element!!! The child had a BLAST!!
For $12.00 for the both us ($8.00/person if not with a group of 10+), we played for 5 hours straight!!! After a good shower and a coat of Aloe Vera (I'm VERY burned), I will sleep like a baby tonight!!!
Today JD did it all...
...he played on the slide with Logan
...he milked a cow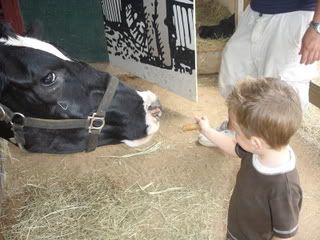 ...he fed a cow
...he petted a donkey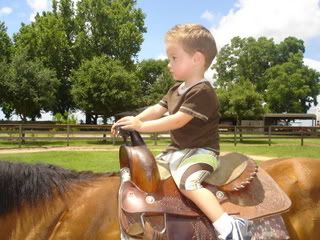 ...he rode a horse
...he even took a picture with mommy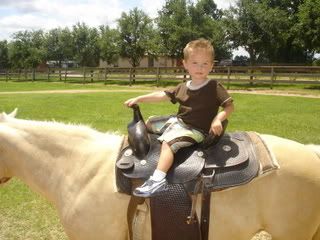 ...he rode again (five times to be exact)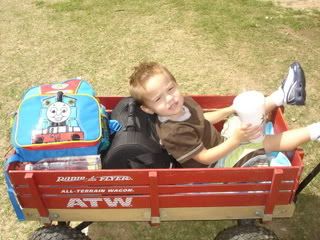 ...he relaxed in his wagon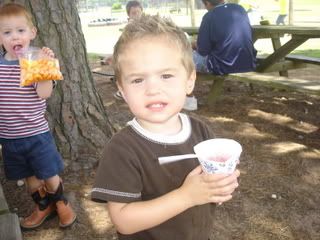 ...he ate some "strawberry ice"
...he spent some time with friends (today's group)
...he hung with his buds (Carder, Camryn, JD, and Chase)
...he rode in Chase's wagon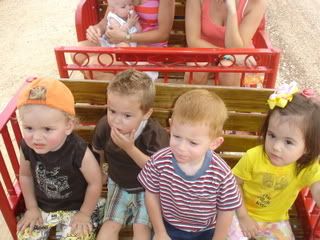 ...he rode a train with Alex, Chase, and Cam
...he walked the tracks
...he swam
And as you can tell...had loads of fun!!!