...and here I am, on the computer. Never mind we've been out of town for 4 days and the clothes from the river are starting to smell a little less than fresh. Never mind my house looks like a tornado hit. Never mind I have 10 shows to catch up on. Never mind my dogs feel neglected after spending 4 whole nights at Barks Fifth Avenue (yes, that is the name of the boarding place). Never mind I have a million and one things I should be doing otherwise.
So we are home. Our lovely weekend of fun has come to an end. Back to reality - back to STRESS (another post).
We did have a great time. I was hoping to post prior to our departure, but just couldn't find the time. I literally went non-stop until I sat in the car Thursday afternoon at 3:15. It's a lot of work but SO worth it.
We arrived at the beautiful Frio River Thursday evening. This is after driving through some eerie weather and then witnessing not one, but 3 BEAUTIFUL rainbows. I'll post those pictures once I'm able to upload them. This is after I find the usb cable to connect my Lexar to the computer that JD was using for a jump rope last week.
So we arrived and unpacked. My brother Eric was already there (he drove in from Lubbock) and Emil and Dolores were there (my B-I-L's parents). My parents arrive shortly after and then my S-I-L and her kiddos followed. We hung out a bit Thursday night, well they did - I passed out on my bed after getting out of the shower. I was BEAT!!!
Friday we woke up, had breakfast, and got on the river!! Concan has had a lot of rain the past month, so the river was up 3 feet! It was wonderful!! We tubed for a couple of hours and had a BLAST. The kids did so good! They are all at an age now where they really enjoy it! JD is quite the river rat. He laid back in his tube and floated the whole way! We also floated again that evening once a few more of our group arrived.
Saturday we floated again and well, that turned out a little differently. The float itself was great. The weather was pretty cloudy so the COLD water felt even colder, but we still had fun. The trouble wasn't until the end. We thought we'd float a little longer than our normal 2 hours, so we made arrangements to float to Garner. Ha! Little did we know, the float to Garner was 8 (that's right E-I-G-H-T) hours!!! We reached a bridge (that marks half way) and asked a group of friendly river rats how much further to Garner. They informed us we had another 4 hours to go! It was already 4:00 and the water was COLD!!!! These river rats were nice enough to drive Jimmy, my brother, and B-I-L to Garner to get there trucks. An hour later we were riding comfortably in daddy's F250 back to our cabins!! This is a mistake we'll not make again!!!
Saturday night we made fajitas and enjoyed our last night at the Frio. At sundown we had a BIG Badminton game, appropriately named the Showdown at Sundown!! This was the match of the trip! It was teams of 2. Aylie (my S-I-L) and me, against Shannon (my sister) and Lynn (a family friend). I must first tell you. I'm a big smack-talker. This began earlier in the day when I was bragging about my badminton skills, or the skills I used to posses. I pretty much warned my opponents that they were about to face badminton death. They weren't too intimidated. SO the match lasted a while and in the end, we lost. We fought until the end, but were defeated 15-13. I shook the champs hands and walked away. I was unaware that my sister was a badminton beast! She really won the tournament. I mean, seeing how Lynn really just stood there and looked pretty! So congrats Shannon. You are the Big Puma of badminton!!!
After the showdown we chowed down some more. I called it a night not to long afterwards. I'm really a pregnant weeny underneath!
Sunday we spend the moring packing and the afternoon at Garner. The weather was BEAUTIFUL and we enjoyed every last minute of it. Garner is located on the most beautiful part of the the river! Here are a few pictures...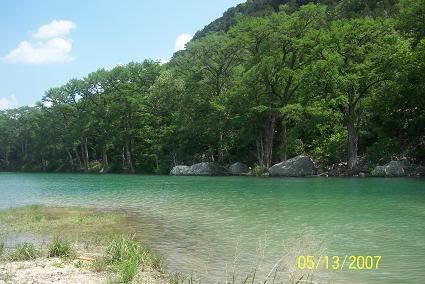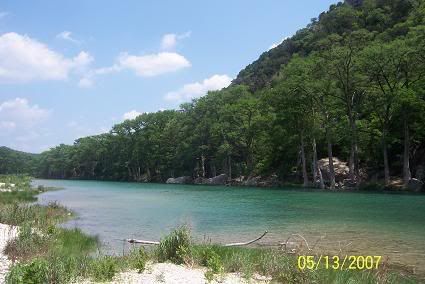 Here are a few others from our trip...I'll probably add some more later!
JD cheesing it up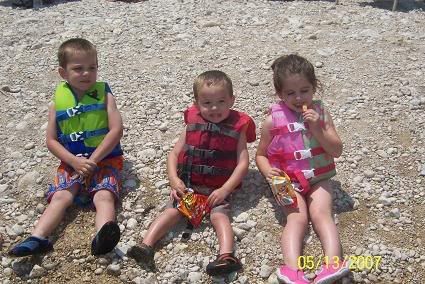 JD and his cousins (minus one) - Nicky, JD, and Lezlie
JD and Lezlie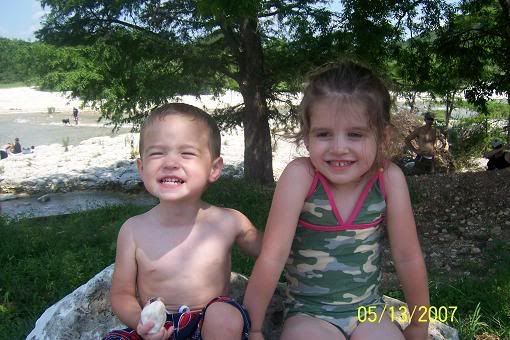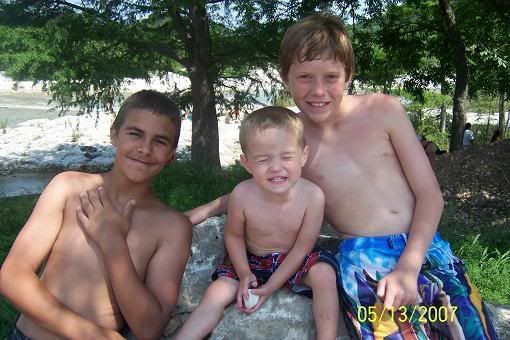 JD and his buddies - Logan (my brother's friend) and Matt (my youngest brother)
My Sweet Family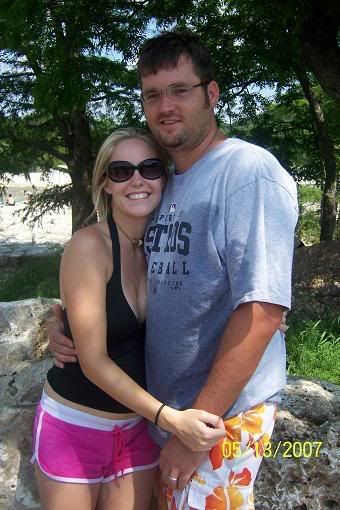 Me and My Man