The time has come and ugh! I say. JD has expressed his readiness in beginning the long, treacherous journey of potty training. I was in complete denial for a while. This is something that I was not looking forward too and almost certain would not need to worry about for another year! WRONG! I tried ignoring the signs...the eagerness to sit on the potty...the constantly taking off of the diaper...the way he always told me when he pooped. I figured this was the norm and that potty training was a good 6-12 months away. I even went as far as laughing at those friends of mine who were ready to work on it. One of those, "yeah right...let me know how that goes" kinda laughs!
This was until Saturday afternoon. JD walked into the study where Jimmy was on the computer and said, "Daddy, I needa go potty." Jimmy just kinda looked at him like, okay...go. The JD started removing his diaper. Jimmy, of course, called out to me for some guidance. "
Uhh
...take him to the bathroom at least!" So this was
JD's
first, real pee-pee after telling us he had to go. This happened a few more times at my mom's. Then Sunday JD did the same thing four times! WHAT?! So, Monday I woke up and went to Target. We bought pull-ups and big boy undies. Both in classic Lightning McQueen print!! This was a HUGE thrill for JD. He loves his White-
ning
!
So Monday began the training. From noon-on JD only went in his pull-ups during nap time!! Of course by this time I thought I had a child prodigy and we had potty training beat. Ha ha!
Hahaha
! Yesterday, well...let's just say we had more accidents then successes. Today, we've broke even.
If I've said, "JD, do you need to potty?" once, I've said it a million times already. Either that or, don't potty on Lightning; he'll be sad if you potty on him. This is of course followed with Mater will be sad, Sally will be sad, Doc will be sad, and the rest of the Cars cast!
So here are a few new pictures of JD in his new big-boy undies!! These seem to work better during the day!!
Is he cute or what???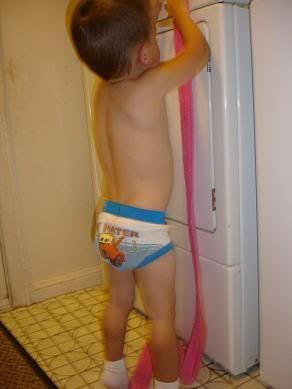 ...and here we have
JD's
infamous, eye's closed smile!!
And here are two videos of JD. I'm in love with this new talking ability. The first is of him singing his favorite song. The other he's talking to his Nana and PawPaw!