We are home! Anyone who's traveled to Vegas knows how good it is to be home. To normalcy. To quietness. To real dinners. To normal bedtimes. To my bed. And most of all - TO OUR BABIES.
Traveling after having kids is so different. On one hand it's so much better because you *really* enjoy the vacation and the break from the daily demands of being parents. On the other - coming home is great because you get to see the faces of those sweet little ones you have missed so dearly.
I was so happy to see both of my babies. JD didn't really seem to be happy to see us because that meant he couldn't spend the night at Pa Tim and KK's house and more importantly, couldn't sleep in their bed! MacKenzie was so happy to see us (me). She was all smiles yesterday!!
We reached another sweet milestone today. I just knew MacKenzie was going to start crawling over the weekend while at my mom's, but no. She crawled today!!! She took 4 very good 'steps' on her knees. Yea!!! I knew it would be a matter of days. And I know it will also be any day that she's pulling up by herself. Every time I pick her up our of her crib she's in the upright position trying to pull up. I so worry she's gonna hit her chin!
Back to Vegas...we had a blast! It was the best time ever and such a good get away for Jimmy and I. I so love that man and not that I needed Vegas or a vacation for that matter to remind me, it's just so great to reconnect away from the kiddos.
I wish we could say that we saw a lot of shows or that we are coming back millionaires, but sadly no. However, we made a million new memories with some good friends and laughed more than I have laughed in a while. It was a much needed trip and a great break from the some of the things we are facing as a family right now!
Here are some pictures...it's our weekend in photos!
Kourtnie and I at the airport at 7:00 in the morning!!
Jimmy and I the first night
Kourtnie, Me, and Shannon at Shadow Bar
Jimmy and Nolan - he's small!! all 7 foot of him!
Our group - Me, Jimmy, Nolan, Shannon, Kourtnie, & Kevin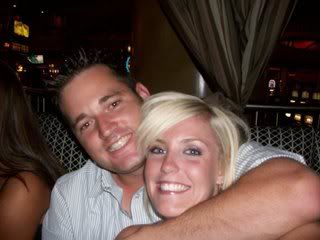 My man and I
Oh, and check back in a day or two. I have an awesome giveaway from one of the etsy boutiques I purchase from regularly! You don't want to miss it!!!