Happy 8 Month Birthday Sweet Girl! Wow...8 months...I can't believe it. When you are 8 months you get to do really cool things like...
I walked in to get her up from her afternoon nap and that is what I saw!! She's standing in her crib! What?! We aren't suppose to be doing that yet!! I am not ready!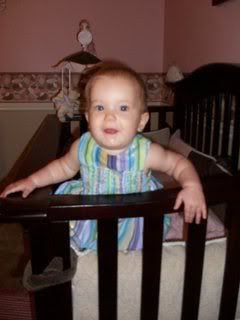 She was all smiles until Max jumped up to see her.
MacKenzie isn't really crazy about dogs (or cats)! Which isn't great because we have dogs. Two of them and they were here first. She's okay with them when
she
wants to see them, but if they even look her way when she's not ready, goodness she gets upset. She blinks her little eyes when they walk by her. It's kind of funny.
Girl loves her some biter biscuits!
After bath time we played in our robe...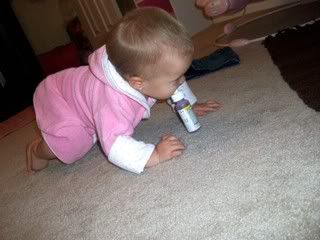 Who needs toys when you have a bottle of Infant Tylenol??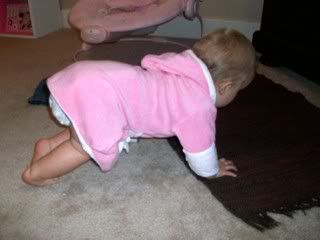 What a big girl!
She says, "Oh...I do love me something pink and shiny!"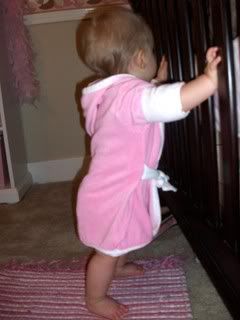 This
is
how we spend our free time...she loves to stand!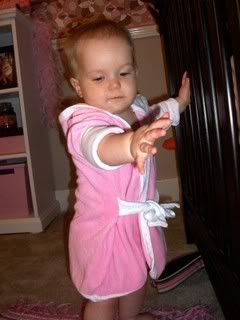 Sometimes she tries to let go
Mama's baby girl...
On a completely different topic...
I am still trying to get everything washed from being out of town. It's seriously a load of fun. Haha. Sorry, it's 12:31 in the am, I should be in bed. So aside from unpacking and washing, we are in the midst of redecorating JD's room. When we first moved in the room was fire engine red and royal blue. It made me want to hurl. It was Thomas the Train themed, which is fine for some. I however, am not a theme-kind-of-gal. Well, I am, but not commercial themed, hences the cowboy birthday party last year. Disney doesn't need anymore of my money than what I spend on toys and pj's! So we are redoing it - surfer themed!!! And it's totally tubular. You like how I slipped some surf slang in there? We are about half-way done and JD loves it. Last night my mom came over to help me hang the border and the entire time JD kept saying, "Oh mama...this is perfect!" or "I love my new room! I love my new surfboard room!" It's seriously cute! I promise to post photos once it's complete. Just like I posted pictures of the new house. In time...
So, I know you have all been on the edge of your computer chairs waiting for the bloggy giveaway. I thought I'd have this up earlier, but no...it's the clothes people!! So, TOMORROW will be the day! I promise...