Four years of marriage and two kids is making this mama pretty domesticated. I cook (here and there) and clean (all the time) and have recently taken up sewing. Yes, I said sewing. I am sure you all that know me well may be a little surprised. In all honesty, I am pretty suprised myself. My last experience with sewing was in 7th grade at Truitt Jr. High in Home Ec. It was great. I can remember almost missing my bus because I sewed the t-shirt I was wearing into the boxers I was attempting to make and pulled the entire sewing machine over on me when I stood up to clean my station. It wasn't embarassing at all.
Needless to say, I was a little hesitant to get started again...
While in Mississippi this summer, I had my Nana refresh me on the basics. Shannon brought her sewing machine along and she taught me how to thread my needle, fill my bobbin, and do all those other things one needs to know in order to sew. It was a great, learning experience and I truly had the best teacher because my Nana can doing anything! She's one of those women...
So, I brought all that good knowledge home and got to work. Since coming home I have made 2 more pairs of pajama pants for JD, a matching shirt (ok, Target supplied the shirt) with "JD" on the front, a "1" shirt for a friend's birthday boy, and a personalized PJ set for a friend of mine's daughter. All those are fairly simple things to make. Last week I started on something a little more...exciting! I made MacKenzie her first boutique-worthy ensemble!!! I am so excited and totally impressed with myself that I have to show it off, of course!!!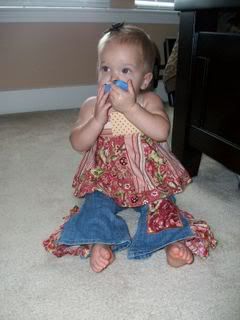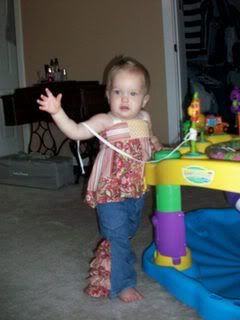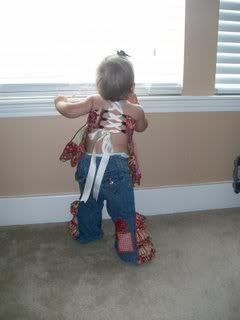 The back - corset tie - so cute over a collared shirt in the fall
It helps when your model is this cute...
close up of the top - 4 different patters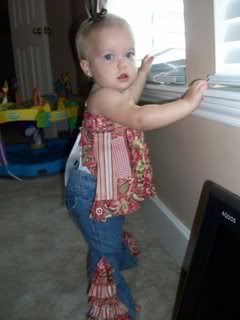 The craziest thing about all of this sewing business is the money saved!! These exact same outfits can be found
here
for about $150 more than I what I spent to make it. INSANE!!! And so much more fun when you can say, "Oh that...yeah, I made it!" LOL!!! It's such a fun and stress-relieving hobby!!
I just picked up some new fabric with some fun new designs for my next outfit. Oh, and I am working on a zebra and hot pink number that is going to be stellar! Don't worry...I'll show those off once completed!!