It's official, JD is a preschooler. I wish I had pictures to highlight this post, but I am a bad mom and didn't take any. I am kicking myself now. He's been in MDO for the last 2 years so I didn't really think the first day of school was a big deal, but now I wish I would have taken a few. Afterall, it was the first day of preschool, not just MDO. Regardless, he did great as is sooo glad to be back. He loves his new teacher, as do I. Mrs. Clayton, or "Clayton" as JD calls her when referring to her, he calls her Ms. Clayton when he's talking to her, is just fantastic! She's loves the kids so much already and is just great.
I also enjoy my few (5-1/2 to be exact) hours as a mother of 1. I forgot how EASY it is. Haha. They are a few great hours with my girl. I also can get so much done.
I also started MOPs (Mother's of Preschooler's) last week and LOVED it. If you are a mom of a young one I so recommend getting involved in a MOPs program. I am doing it with a friend and Friday's first meeting was sooo great. We meet the 1st and 3rd Friday of the month. The 1st Friday we do a craft and the 3rd there is a guest speaker. Last week we made candle beads. They were so cute and a great idea! Our theme this month is "gift shop" so we made candles (or the beads) you would find in a gift shop. Next meeting our guest speaker will talk about the 3 gifts every mother should give their children. I am looking so forward to it. It's a wonderful break from the everyday and they offer childcare with with some WONDERFUL ladies (The preschoolers are taught using the Veggie Tail curriculum). It's 3 hours of fellowship with mama's who "understand" you.
Here's 2 pictures of my cute candle! It looks great in my bedroom.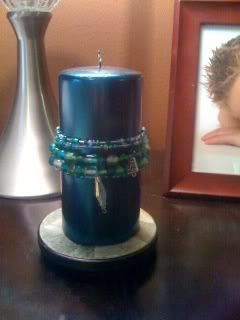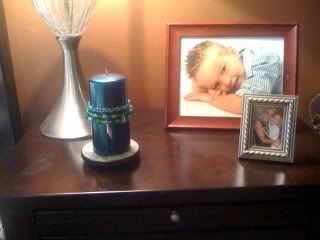 I also start my new Bible study tomorrow evening. I am doing Beth's LIT Bible Study and I am soooo excited. Tuesday evening can not come soon enough!
Well, I better run. JD has The Little Gyn in a bit and we need to eat breakfast and get dressed!!