Seriously...I just was told that CFISD is closed Monday as well. Jesus, please help me - if school is not open come Tuesday you are gonna have a very frusterated mama. I need a break from my sweet JD. A break in a bad way.
I am not sure what happened to him today. I am thinking maybe someone snuck in and spiked his capri sun with caffeine. Seriously?! He bounced off the wall. So much so that I fell asleep on the chair in the living room and was dreaming away and even in my dream I could hear Jimmy fussing at him to "CALM DOWN!" I bet between Jimmy and I we repeat this phrase 25 times a day. I have no idea where he gets this energy from. Jimmy is as unenergetic as they come. Me maybe? I mean, it's true that I can't sit still very long and I hate having weekends with nothing to do. I do tend to overschedule myself and spend most days playing catch up. But I am not hyper. No, not at all. Hmmm, he must have inherited that from an aunt or uncle or something.
On to other things...equally as exciting but less stressful. I just finshed two more outfits. One was a gift for a sweet friend's daughter. Miss Reagan Mac turned a year old this week and her precious princess party was today. I made her an outfit similar to
this
one but in a precious purple, electric blue, and lime green print. I wish I would have gotten pictures but I didn't have any time! I will post some once Jessica sends me some to show off! It was cute and that precious thing will look FAB in it!!!
This is the other one I just finished. It is near and dear to my heart. Mostly because it's all things sassy - pink and zebra...who doesn't heart some pink and zebra!? It's a sassy little number for a sassy little number!!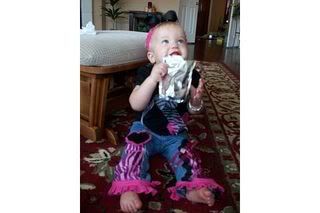 And no, I didn't "make" the jeans - just embellished them!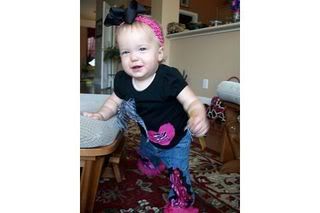 Miss Kenz is getting sooo big! Tear...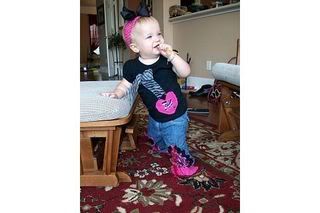 I *love* this picture!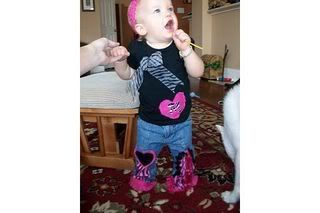 A little personalization!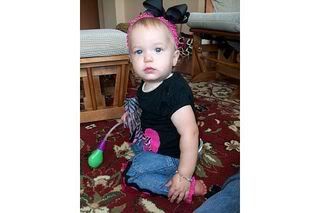 She's got the most precious lips!!!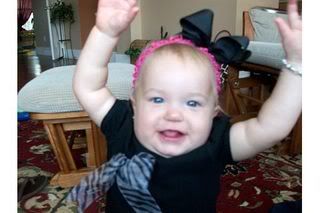 SOOOOO BIG!
And of course, a blog entry wouldn't be complete without a picture of mama and her wild man!!! I sure love this little guy...