It's pretty much common knowledge that the women in my family were blessed with green thumbs. Well...most of them. Meaning, not me. I couldn't grow a lima bean in a plastic baggy with a paper towel - and we know those are the building blocks to a green future.
My Nana has a yard that deserves the front cover of every gardening magazine north of the equator. She can grow a rose bush in a desert. It's amazing and her yard is breathtaking. All of it. All 7 acres of her land is BEAUTIFUL. God blessed her with the ground and she made Him proud, with the help of my PawPaw of course. He's on that ridin' lawn mower every day (except when he's playing golf) keeping everything lookin' sharp.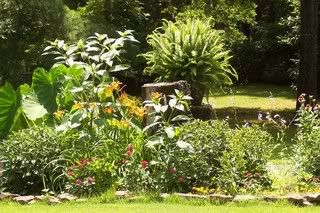 My mom is equally gifted in the growing category, she's just a bit more limited on time. She had several BEAUTIFUL beds last year. They made the Easter pictures gorgeous.
But as I mentioned before...me? Not so much!
So, every spring I get this great idea that this year is it! I'm gonna have a pretty yard. Every summer this goes to pot. Literally - it turns into a pot with soil - NO flowers, NO herbs, NO nothing. Just dirt - and very dry dirt at that.
BUT this year is going to be different. This is the year that my yard stays pretty all summer through. We've started working on it. The front is done, but there's not much to do there. Mostly green stuff which I don't kill as quick. The backyard is getting there. Jimmy did a new rock-bed for me with a fountain and and some potted plants. I still need to do flowers in a few beds, but will work on this next weekend. I'm excited and motivated, which is a start, right? Here's what we've got so far...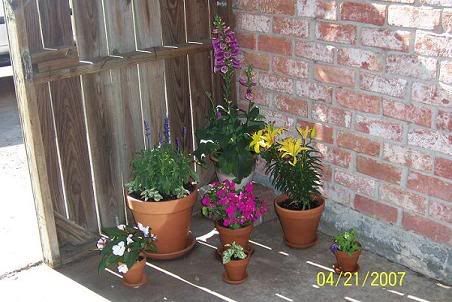 And the main reason why I love this backyard so much...