The time has come...here goes.
For those who don't keep up with my
mom's blog
or haven't picked up on my subtle hints in previous posts, this may come as a complete surprise...
I'm PREGNANT again! Yea! Sound the alarms because the word's out!
I waited a bit longer to send out the official announcement after the last one. The hardest part about miscarrying was telling everyone. So, I decided I better wait until I'm past the riskier first trimester. And although I'm not quite into my second (3 days away) and I know there's always a chance of miscarrying, I'm at peace that this is suppose to happen this time. So...I feel obliged to include it on my blog - because it's not official until it's blogged people!
So yes, baby number 2 is a cookin'. I'm 12 weeks and 4 days!! JD will be a BIG brother in less than 6 months!! I'll be a sleep-deprived, insane hormonal mother of two in 27 weeks and 3 days. I am counting down because I can not wait!
I went to the doctor today for my second prenatal visit. Things are looking good and Baby V is still set to arrive November 4th. Dr. S. did mention that my placenta was a little low. They usually move up as the pregnancy progresses but if not I'll be having a c-section. Sooo not worrying about that yet. She also ventured to guess that this will be another boy. WHAT?! That was not in the plan. And God laughs. She said it's too soon to "call it" but she see's what might be a penis (or a spec, or floating flecks, or anything else on that grey and white ultrasound). She couldn't see this so-called penis from any other angle, so I'm not convinced. Jimmy is though. He's already talking boy names. We'll soon see. I'm scheduled for my anatomy scan, where we'll find out the sex, on June 8. That's ONLY six weeks away!!!
So most people's next question is...how are you feeling? Like crap. Sorry I don't have anything better to say, but it's the honest truth. Anyone not feeling sorry for me yet should have witnessed the spectacle at Los Cucos last night. I literally darted out of the restaurant after dinner to avoid throwing up in the place. Unfortunately, I did not make it past the patio-filled with late night hungry people. Yes...I did puke in front of everyone. But...I managed to keep walking, not everyone is talented enough to puke while walking.
As for the last thing. I need some prayers my blogging sisters and brothers (if you're out there). Monday I'm having surgery on my cervix. I had a similar procedure when I was pregnant with JD. My cervix is incompetent (what everyone woman loves to hear) and might not carry full term. So a cerclage (stitch) will be placed in my cervix to strengthen it. With my placenta being low this causes an additional risk because this means my cervix is even closer to my placenta. The doc will just need to be careful. It's pretty simple and I'll only be down about 24 hours. I will however have to wait and see how my cervix reacts afterwards. Last time - not so good, but we have faith that this time will be better!! So...PLEASE...keep those prayers flowing Monday. I'm so attached to this bun, I can't imagine anything happening to it.
Oh, and if the above wasn't enough...here are a few pictures!!
The Baby's Body (I think)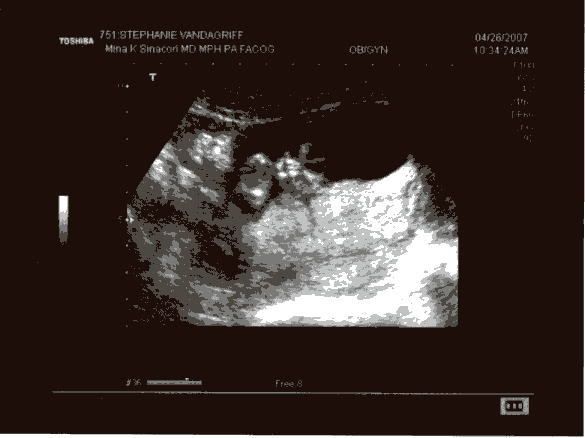 The Skelator Face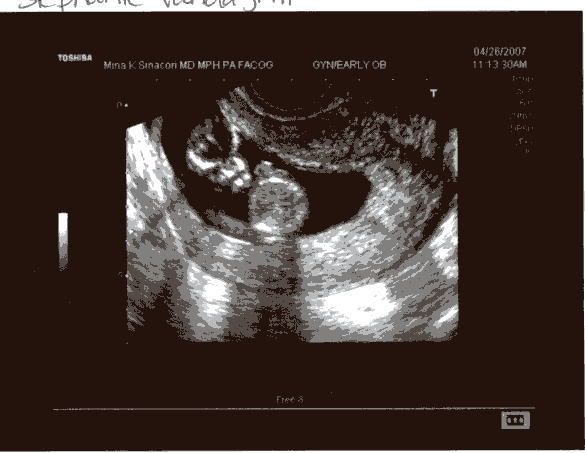 My Growing Belly (excuse the blur...it's growing so fast my camera can't keep up)
Oh...and of course my FIRST Baby Vandagriff. He was so good at the doctor (another post) today that he got stickers. How cool is he???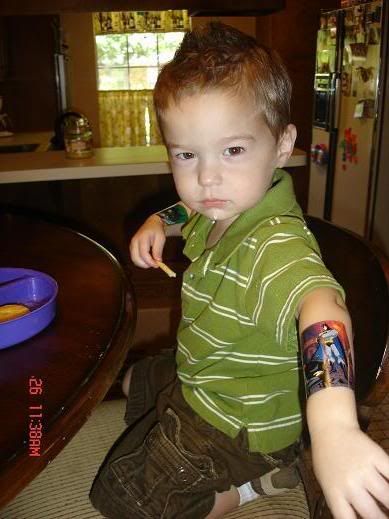 He's starting to think he's too cool for this camera!