I have to share some MacKenzie cuteness...seriously! I was trying to video her snorting because that's what she does, she snorts. Instead I got this...oh, but do ignore the extremely annyoing talking, huffing, whistling, and awful laugh at the end. I have no idea who that is...
How precious is that? That's her newest trick and she waves bye-bye to everything. I had her in my lap after I uploaded this video and she even thought she was cute. And she waved bye-bye to herself waving bye-bye.
Other MacKenzie news...still no teeth. Which is fine because my hooters are quite happy not being nibbled (the first time I typed this and went back to re-read I defintely typed nippled on - LOL) on. Jimmy is worried that when MacKenzie finally does have teeth we won't be able to afford her. Well not her and myself. She eats all day. All day that she's awake. Seriously...her faves right now are corn on the cob, fresh steamed peas and carrots and graham crackers. Y'all think I am kidding.
She can also climb the stairs. I swear I am not making this stuff up. My hands are full. I always thought JD was going to be my wild one, afterall, he's the boy and, well, very wild. He has no fear. Or so I thought...WRONG! MacKenzie is my wild child. She climbs the stairs...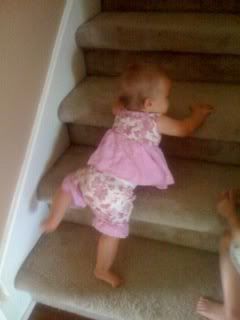 She can climb straight out of her bumbo seat with no problem.
And...brace yourself...she has climbed out of her crib already. Yes, at 8 months my daughter has mastered climbing (falling) out of her crib. She was and is still okay - Praise You Jesus - but it was a bit scary. I wish I could say that the crib was on the high setting but I'd be lying. When standing in her crib the top rail hits chest level - see previous posts for proof. I don't know how she did it, but she did. She now has nothing in her crib - no bumper at all b/c I am scared she'll figure out how to stack things up to get out. I wouldn't put it past her. So now she either wakes up with her face smashed against the wood or gets her thighs stuck in between the bars. She's a mess!!!
Besides being my little adventurists, she's a pure joy. She is the sweetest thing these days and I can not begin to tell you how much I love that sweet thing. Never in a million years did I think I could come close to loving another child like I love JD, but I was wrong. I love her just as much and in such a different way. It's amazing how God created a woman's heart to be able to love all her children equally and yet so differently. What a blessed species we are!!
And on to my little man...he's getting so big!!! I mean, he's still skin and bones. Tan skin and bones, but he's getting so much taller. He's put on 2lbs since March and grown 1-1/2 inches since then!
He literally never stops talking and feels the need to repeat the same sentence six times until you acknowledge that "Yes, your shirt is red and no, we do not throw our balls into the fan." He's a pure mess.
He's also a sick mess right now. He has strep throat - poor baby. I took him to the doctor yesterday morning b/c of a fever. He ran a week long fever in December and another week long one in April. I called in yesterday morning and they wanted me to bring him in for some blood work since I thought we were starting the fever thing again. They did a strep test first and POSITIVE! I felt so silly for not seeing the blisters on his throat before. He's not acted sick at all except when the fever spiked so how was I to know?! Anyways...we are on amoxycillian and resting!!
More exciting news...my dear sister is at her freshman orientation as we speak. I am so excited for her. She's actually at the Huntsville State Park with my mom and Tim. They just purchased a GORGEOUS 5th-wheel camper last week and they are breaking that bad boy in! Shan leaves tomorrow morning for a full day on campus and has to stay the night in the dorms tomorrow. She's a teeny tiny bit nervous to say the least!! Praying for her wouldn't be absurd!
So that about sums up the last few days. I will leave you with a few cute pictures...
The all-to-often nose scrunch...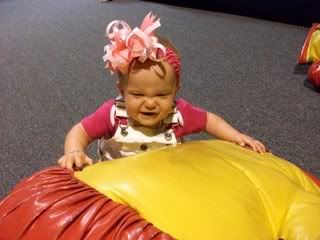 JD doing a little rock climbing....
I like big bows and I cannot lie, you other sisters can't deny...
There's a good chance she'll break a few hearts....