Randomly in our house we have photo sessions. It's what you do as a mom. I was going through clothes in MacKenzie's closet and making sure all of the clothes she could currently wear are in her armoire. The rest hang patiently in her cloest for their turn. She has a few. Well, I came across a custom outfit I had purchased from a friend. A group of girl's and I have a wonderful friend that enjoys (and can afford) buying custom-made clothes for her daughter. She's got a mild addiction. And we support her and her habit, especially because we also reap the benefits. Well, one of the precious ones I purchased from her many, many months back finally fits. I have been waiting for the right occasion - it's defintely a "party outfit". And I am so excited because we have the perfect party to wear it too next month. A sweet friend's little one is turning 1 - not only is it special because of that but it's my first birthday to plan!! It's the first actual event for
A Mudcake Soirée

.
So, excited I am indeed. It's beach-ball themed and Kenz has the perfect getup! So...back to the picture party we had today...a few of my sweet model.
I realize some of you think we are a bit over the top (Nana) and I must add, you haven't seen anything yet! =)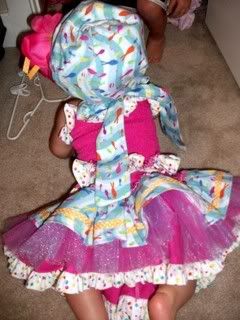 Some might say she appears embarrassed...I know that she's really trying to eat her hand.
I love how she's looking over her shoulder...
Seriously...I'm in love.
Hope everyone has a wonderful weekend. We get to celebrate two birthday's tomorrow - Jake Wood's 4th birthday and Lezlie Johnson's 5th birthday! Don't worry...MacKenzie has cute outfits for that as well!!! Sunday we are heading to the lake. We haven't take the boat out in almost 2 months and we are just dying to get out on the water!!!