Whoohoo. What a whirlwind the last couple of weeks have been. Heck, the last weekend alone WORE ME OUT. Friday night we enjoyed some fun time at the AGC Cookoff. This is an event my mom's company has been involved with for years and for the first time we had such a big great group there. We had a blast!
Saturday was a BIG FIRST. We woke up nice and early and by nice and early I mean not-so-nice but VERY EARLY. Like, 5:45 early. I forgot there was a 5:45 A-M. Yikes!!! What could pull this mama out of bed at such an awful hour??? Oh....10 little 4 & 5 year olds for a wonderful day of TBALL. Whoohoo. Saturday was JD's Baseball parade, 1st TBall game, and and Baseball Carnival. If you Houstonians remember, Saturday's weather was less than perfect. Like, several 10's of degrees less that perfect. We all FROZE. It was MISERABLE!!!!!!! BUT, my sweet thing was super precious in his tiny little TBall outfit out there on that big field. So...I finally have some pictures, and really...they say it all. Oh, and then there's that video.
Me and my sweet girl before the start of the parade. And yes, she is wearing a Mudcake Original.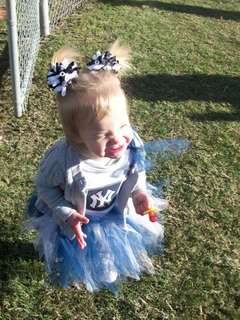 She loves the wind and gets super excited!!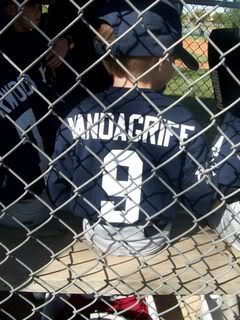 I *love* this pic! I think it's hilarious that his last name is really bigger than his shirt!
My little Yankee
Right Fielder
First time at bat...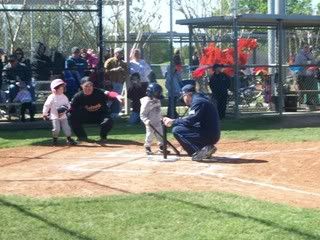 Sunday we had a wonderful time at church. I tired to take a few pictures of the Priss before leaving but instead I got a meltdown and some non-smiles. She's a mess and I love her to pieces.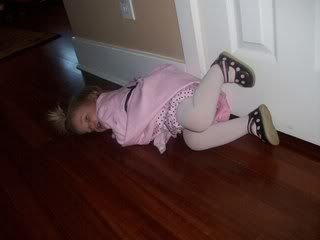 I DO NOT want to take a picture!!!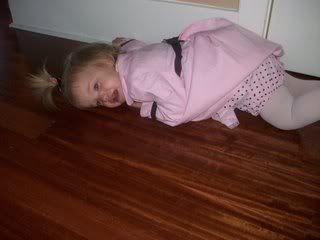 This is as close as it gets to a smile...
We spent the rest of Sunday visiting with my family, a birthday party for a sweet friend of JD's, and a wonderful benefit at the golf course for a friend of Jimmys. It was a lot of fun and a HUGE turnout for a sweet family.
As for the rest of the week...I am going to try and get my house in ORDER so that I can get to sewing! I have some major things to get done!!! So I can get a website done! So much to do...sooo little time.
That's all I got for now!