The lack of blogging has been due to the increase in sewing, traveling, and unpacking.
We enjoyed our last (tear) camping trip of the summer. We spent the past weekend in Frio Country. We stayed at our most favortie cabins (actually we tried out the new Riverbelle house and LOVED it) on the Frio and had the BEST trip ever. It's so nice now that the boys are getting bigger and MacKenzie is a little older. The boys played their hearts out and had so much fun. MacKenzie was in the middle of all of it and was sooo wonderful. She loves to be outside so she was in heaven the entire trip. She also LOVES the water and floated that river like you have never seen. It was sooo precious...
We stay at the
Frio River Cabins
and y'all, it's seriously the greatest place ever. The owners, Don and Lisa Yaklin are wonderful people. They are so sweet to our family and not only let us come and stay in their wonderful little cabins but they open up their home and land to the kids. They let them hunt for chicken eggs, play with the dogs, and feed the horses. JD and Nicky think it's the best thing ever. These city boys love hunting their chicken eggs. Of course if you ask JD, he'll tell you that the last eggs (from our May) trip hatched and we had 2 baby ducks. Odd...chicken eggs having baby ducks. Nicky will tell you that he's not going to cook them because he wants a baby chicken. Luckily, neither remember in the morning and had no problem chowing down on their breakfast tacos!!!
Here are some pictures from the trip. I hope to post some more in a few days when I get our water camera developed. Those are going to be great! For now, enjoy...
MacKenzie tasting her cousin's popsicle
MacKenzie enjoying her first smore. Poor JD didn't enjoy one of these until he was way past a year. Second child...
WHAT?!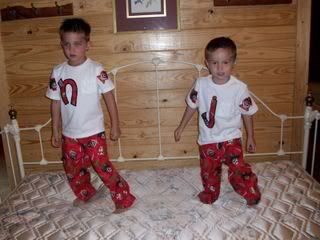 Nicky and JD wearing their matching PJ's I made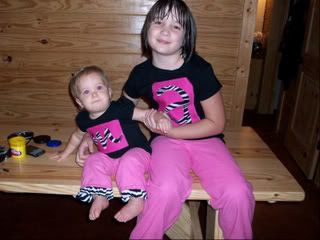 The girls and their matching PJ's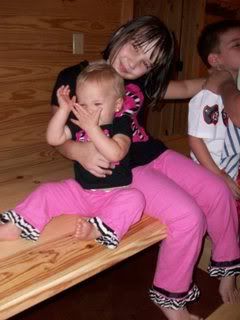 Happy girl. I don't know if she was clapping or blowing kisses, but she's happy!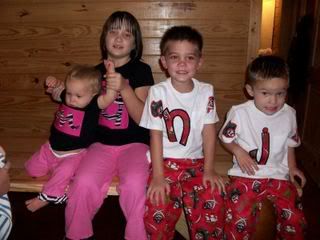 Cousins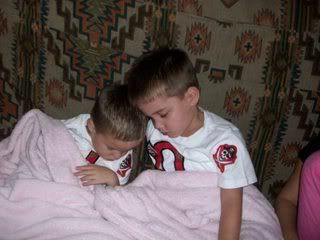 Sleepy Boys.
Uncle Nick getting in some serious bow practice.
Nicky loves his Kenzie-Girl.
JD and Chief.
Best Buds!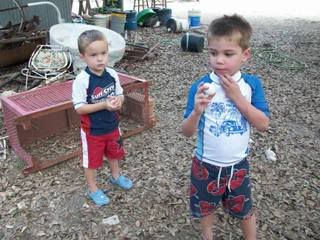 JD and Nicky with the eggs they found.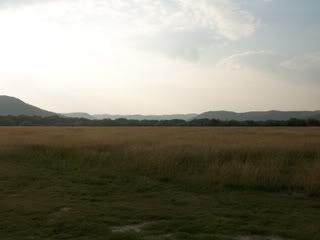 The view from our cabins huge front porch. Seriously...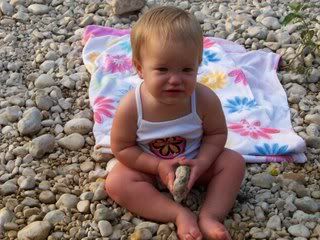 I think she's mad I won't let her eat the small rocks.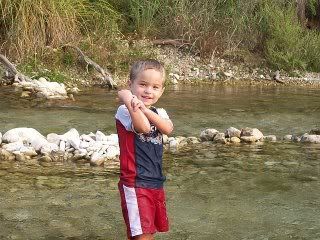 Handsome boy actually smiling.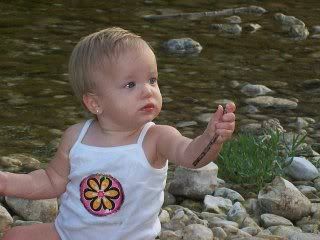 Pretty girl sitting in the water.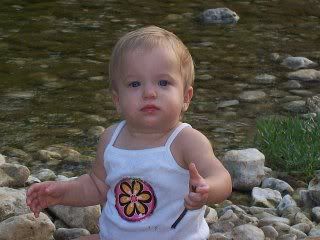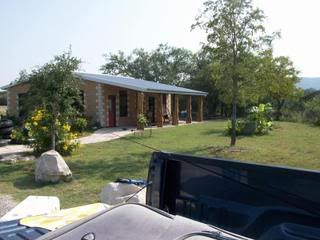 Our cabin.
We are glad to be home and back to the norm. We went to the zoo yesterday and had a blast. I will post about that tomorrow. I have some more cute pictures.
Off to catch up on shows and work on the girl's party. Yes. She will be 1 years old in less than a month. How is that possible...