As I have mentioned once or 5 times before, Mississippi was wonderful. I can't think of anywhere else I'd rather spend 2 weeks, except maybe Hawaii. No really, this is why it's so hard for us to go on "vacation" because I hate giving up a couple weeks of time for a beach and water when I could be spending it with my Nana and PawPaw. They are just two of the worlds most special people. I pray that one day I have grandchildren and great-grandchildren that love me the way I (we) love Nana and PawPaw and I can only hope to be half as wonderful to them as they are to us. We are truly blessed...
As usual, we have wonderful memories from MS this summer. JD loves his Nana and PawPaw fiercly and had the best time. He did not want to leave at all!! Everytime I told him we would be leaving soon, he'd say, "No, not yet!"
While in MS we witnessed several new things...some sad, some funny...
A horse had to be put to sleep the first day we were there. He had stepped on a nail and gotten tetnus. I never saw the horse while he was suffering because I am entirely to tender-hearted to witness a thing like that but I was told it was awful! From the tetnus he had lock-jaw and was literally thirsting to death. My Nana, being the good ole southern gal that she is, thought she'd just pry that horses mouth open and give him some water. It didn't work, but she did have to rush into town for her own tenus shot. Yes mam! Eventually the vet came out and put the horse down. It was so sad. BUT, the next day the county came out to bury the horse (I swear, just in telling this story the southern twang that enters my voice every trip up there is coming back) and JD was so excited because he got to watch a "digger" dig the biggest whole ever. JD is 3 and therefore doesn't quite comprehend death, so instead he kept telling us, "That digger, he's looking for buried treasure!" He does understand pirates you see...
If watching a real-live digger in action wasn't enough, JD also got to drive, did you hear that, DRIVE a fire truck! It was the highlight of his trip...errr...year! Uncle Bubba is Captain of the fire dept and on SUnday after his regular shift he brought over the fire truck from the volunteer station for JD play in and DRIVE!! He was a little excited to say the least...
Uncle Bubba and JD...
There she is...
JD loves his Uncle Bubba!!
It's time to ride...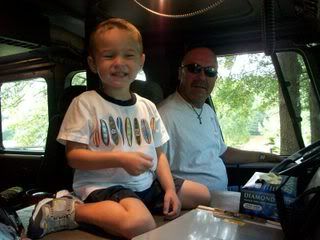 Pulling the horn...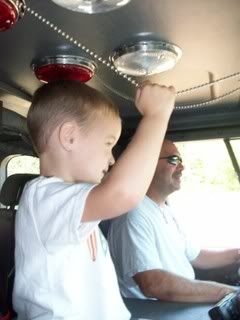 Scoot over Fireman Sam, here comes Fireman JD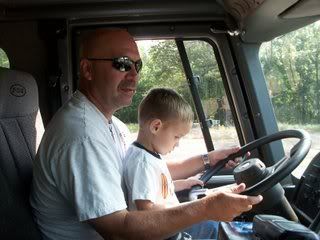 JD in Uncle Bubba's Helmet

We also spent a lot of time on 4-wheelers. JD loves riding on them, but you have to watch him because he tends to fall asleep!! One afternoon we rode for 2 hours all through the trails and in the woods, he had a blast and kept telling me, "Mom, this was a good idea!"
JD and Uncle Bubba riding...
Mama with JD
As if the horse incident wasn't enough, we had another death while there. This time - 2 kittens. My allergies were out of control one afternoon while we were there and I took a nap alongside Kenzie. JD was playing with PawPaw in the living room when PawPaw got up to use the bathroom. Well, in the 5 minutes PawPaw was gone, JD decided to sneak outside. While out there he gave 2 of the newborn (4 week old) kittens a bath. Seriously...I can't make this stuff up. So a few hours later we all were off to ride again and noticed the cooler with the lid off. In the botton peacefully resting were 2 drowned kittens and at the top were 2 fighting for their lives. JD had filled the cooler, poured enough DAWN soup in to wash dishes for a month and started scrubbing away. The 2 that were still "swimming" were so covered in soap that eveyr time they breathed bubbles came out of their sweet little noses. It was AWFUL. When I tried to explain to JD that we can't put the kittys in the water because they do not like to swim he said, "But Mama, I told them to swim. I said, 'SWIM KITTY!'" Really, what can you say to that?!
Here are the sweet kittens before...

But it wasn't all fun in games! No Mam!
JD was forced to help bake...he knows everytime he goes to Nana's he gets to bake a cake. One day before we left to head up there we were talking to Nana on the phone and her told her, "Nana, when I come to your house we're gonna make a cake. We are gonna use eggs, and powder (flour), and milk, and stir it up!"
Here they are making a Mississippi Mudcake, which used to be my favorite to make!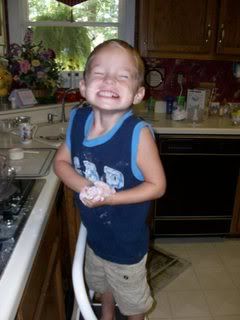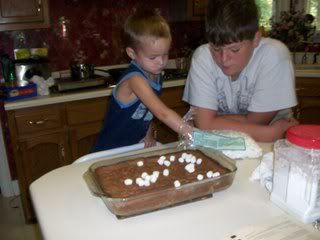 I also learned to sew. Yea!! I wish I had pictures to prove it but we were just too busy to stop and pose! However, I did make JD a pair of lounge pants and MacKenzie a pinafore. I just picked up some more material yesterday for a few things...
Here's JD watching Nana make his Cars lounge pants!

Needless to say, we had a wonderful time and can not wait to see them in October. They will be down for Miss MacKenzie's First Birthday!! We will go back to Mississippi for Thanksgiving this year!
Here are a few more random ones from our trip...
Miss Sassy Pants...

One night when we (Me, Shan, Jessica, and Jimmy) went out!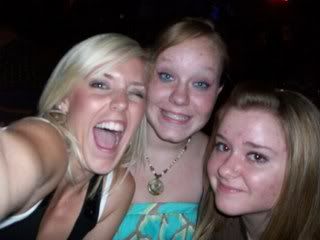 My beautiful sister and I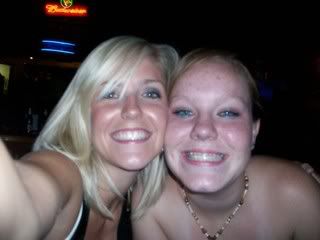 Nana and her girl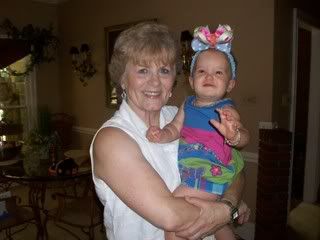 But really, Miss Kenz is a PawPaw's girl! She just loved him!!!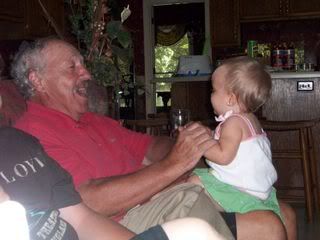 Aunt Shannie and the kids...we are sure gonna miss her next week when she's off at school! =(