So I am typing away on here putting off all that NEEDS to be done. Meanwhile, I have heard the fridge door slam 3 times and the chair being dragged across the kitchen floor. This means a) JD has helped himself to a juice box and b) I will be hearing the wrapper of a dum dum very- there it is. He's now unwrapping the dum dum he just retrieved from the top cabinets in the kitchen. My child is a monkey. Or as Nana calls him, a little tree frog.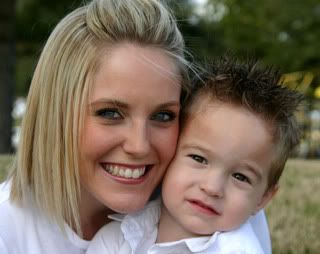 My Little Tree Frog is 3 years old now. I can no longer say he's a toddler but a true preschooler. How did this happen? It seems no time ago I was holding him wrapped like a little burrito in the hospital. How is it he's now three? It's mind blowing. He's the most amazing little thing. I can not tel you how many times a day he makes me laugh. He talks up a storm. Literally, he NEVER stops talking. He talks to me, he talks to daddy, he talks to the dogs, he talks to himself. He talks ALL THE TIME. Which I love, but there are times when a little less talking wouldn't be so bad - like when I am trying to lay MacKenzie down, praying she'll stay asleep and about that time JD rounds the corner and says, "Mom - I'm a pricess, see?" Wich is hysterical because he's also wearing a pink boa so of course I can't not laugh which means MacKenzie can't sleep. This is only the start...
In the past 3 years JD has become such a boy. With the exception of the boa incident. He's rough and rowdy and can climb up anything. Literally, we don't call him Tree Frog for nothing. Those feet are sticky and can literally climb up the wall. He loves to get dirty. He can't eat without wearing half of it on his face. He's constantly building something in the living room out of his blocks. He smells like a sweaty little puppy dog when he plays outside. He can make and usually fills any the silence with sound effects.
He's also the most lovingest little one. He tells everyone how much he loves them. The other night he told my mom, "KK, you can kiss me and I won't wipe it off." Now that is sweet! He then asked her, "KK, am I your favorite because I'm my mommy's favorite!" This has always been a phrase between Jimmy and I. Since we were dating we've always called eachother "My Favorite" instead of baby, or honey, or whatever. Once JD was born he was a "Favorite". I guess we better start calling Kenzie this too or she'll get a complex.
Anyways, JD is the most precious thing besides my sweet Kenz to me. I am so totally and completely grateful for these two. There are days that I can't belive God has blessed me with children. What an amazing job I have!
And a quick update on my "sweet girl" - that's JD's name for her. He says, "Momma, my sweet girl is waking up" or "Momma, I think my sweet girl is hungry" or my favorite "Give that sweet girl her pacifywer!"
Kenz is doing much better these days. We have made it past the colic. I can't sing enough praises for this! If you have never had a colicky baby then how lucky you are. If you plan on having kiddos or adding to your brood, there are 2 books I HIGHLY (I can't even begin to tell you how much these books helped us) recommend. Regardless if you have a colicky one or not, they are MUST READS!
Here's
the 2-pack you can buy because they are both by the same author! We lived by the Fussy Baby one and now live by the sleeping one! I don't know how I made it not havind these with JD. Then again, he was a breeze most of the time - that is until now! LOL!
Back to MacKenzie. She has turned into a mostly happy 3-1/2 month old. I will say for all the crying she did those first 2-1/2 months, she sure smiles a lot now. I don't even think her brother smiled so much. She's got one of the most precious smiles I have ever seen. I love everything about that precious one. She's got the most precious creases in her arms and legs. This is new to me because JD was never a rolly polly baby. She's not really either, just a little fluffy. Her eyes are also just gorgeous. I believe they favor my sister's eyes which is a great thing. They are blue as can be and she's getting these long curly eyelashes. Her sleep is improving. It only takes about 3-5 rounds of putting the pacifier back in before she's out. She's on a pretty good wake, nurse, play, sleep schedule. However, if you do not get that asleep in time, she turns back into the very fussy baby I remember so well.
My favorite moments with her right now are right after she eats. I love her smile! Everytime she finishes nursing she looks up and smiles. So, I always catch her just looking at me with this huge, "I just filled my belly" chubby-faced smile! I can't wait to see what she looks like when she has her first slice of birthday cake! Wait I can...I'm not ready for that yet!!
Here are a few pictures of my sweet girl...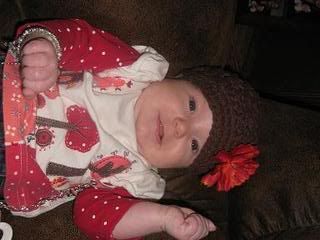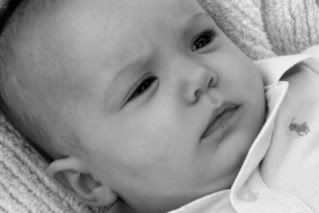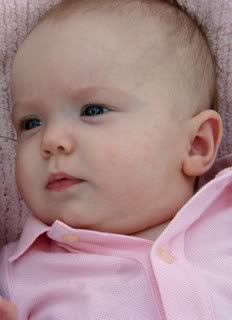 I am so incredibly blessed....