So, I fell in love all over again today. No, I did not receive a surprise Range Rover from my husband. But close. I got to watch him take JD golfing for the first time today. Ok, so it wasn't actual golfing, but they did hit balls at the driving range and Jimmy showed him how to putt.
This is something very special for Jimmy. His own dad taught him how to golf at a young age and I know it's something Jimmy has looked forward to since finding out we were having a boy 3 years ago. I know he only wishes his dad were here to see it.
While I did not participate in today's golf lesson (I should have), I did photograph it!
Here are a few great pictures from today: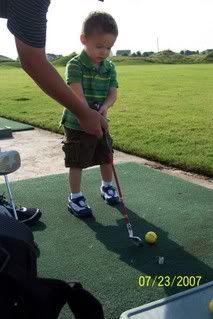 Jimmy helping JD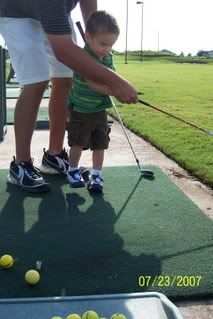 JD said, "Take a picture of my club!"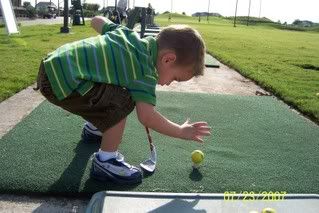 I can do it just like daddy!
Daddy is trying ot get the stance just right!
Now we are putting...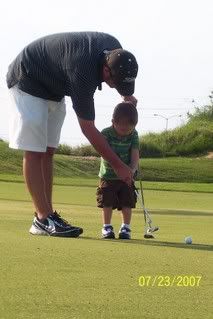 It's amazing because JD loved it. We weren't sure how he'd do, but he enjoyed every minute of it. He would have stayed out there all night! I sure hope he enjoys it as much as his daddy does. Jimmy can't wait to go golfing for real with his boy!