We had a wonderful Christmas. JD enjoyed it so much this year and has mastered the art of gift-opening. I am blessed to have a family that I love spending every minute with. My Nana and PawPaw came in town and JD was so happy to see them. He has become quite fond of PawPaw which tickles me to death. The first 18-months of JD's life my PawPaw tried very hard to play with him. He'd constantly try and hold him or play with him, but JD would have none of it. He cried every time my PawPaw (yes, I know I refer to them as MY NANA and MY PAWPAW - it's a habit which I can't seem to break. Shannon and Jimmy give me a hard time!! Afterall, it's there Nana and PawPaw too) picked him up and would run the minute he called his name. He was much more of a Nana's boy. This has all changed!! One morning when my Nana was over, she went to JD's room to get him and as soon as she walked in he took one look at her and asked for PawPaw. She fussed a few minutes but deep down I know she loves it too!!!
Here are a few pictures of our Christmas celebrations...
JD's gifts from Santa
Helping JD with his presents
Hmmm...where do I begin?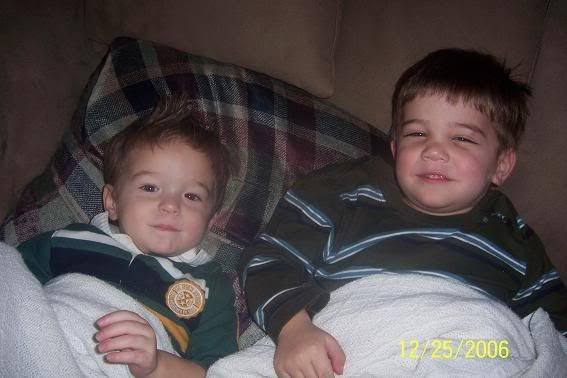 JD and his cousin Nicky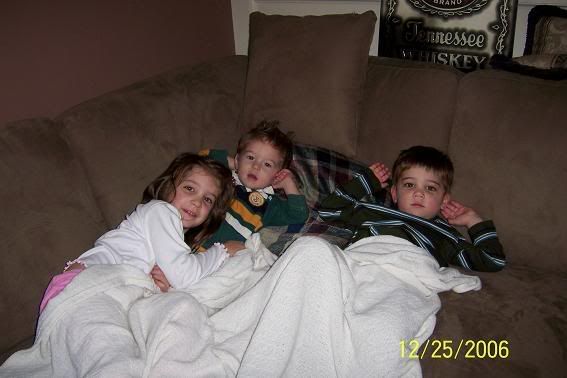 The Three Cousins
The 26th at my Mom's house...I know...it's a ridiculous amount of presents!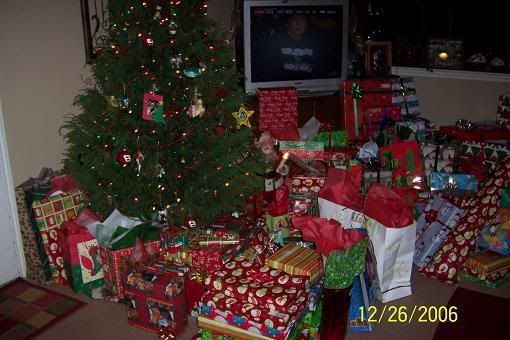 PawPaw, Me, JD, and Nana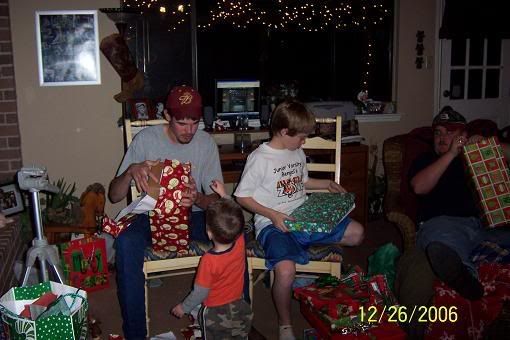 My handsome brothers - Dustin, Matt, and Eric
My BEST Friend
We had a wonderful New Years Eve spent at home with family. We went to my sister-in-law's for New Years Day. My mom, Tim, Matt, and Shan joined us. It's so awesome that we do so much as a WHOLE family!!
Before I close...I wanted to update everyone on JD. He's talking up a storm. I LOVE it. As hard as toddler-hood can be, it is so much fun. So to all my friends with young ones...don't be afraid. It's tough and there will be days when you want to throw your hands up and scream, but the days in between make it all worth it!!! There's a great book available about the toddler years and I'm reading it right now. It's very encouraging rather than scary and it has a ton of info!! It's written for the second and third years...so from age one until they turn 3. It's called
The Mother of All Toddler Books
by Ann Douglas! Read it!!
Anyways...back to JD. He's really mastering the talking. This morning when I went to his room (at 9:00 might I add) to get him out of bed he said, "I pooped, it stinks!" Does this classify as a 4-word sentence or two 2-word sentences??? It was too cute...and yes, he was right. He did poop and it did stink!!! He also has a new obsession with his KK. It's actually pretty bad. This evening when I out him to bed he cried for 45-minutes (I know....I'm awful, but he's fighting me when it comes to sleeping) before I got him out. When I went in there he was crying for his KK. He continued to cry/scream until my mom got on the phone and talked to him. Matt actually answered the phone so there was about a 2 minute delay before my mom got on, all the while JD was screaming, kicking, and yanking my arm to get the phone. As soon as, and I mean literally the second JD heard KK's voice he quited down. He talked to her for a few minutes...literally talking which we understood little of. He sure loves her. We have to make several calls a day to her just so he can talk to her. It warms my mom's heart, and my too once he settles down!!!
One more picture of JD...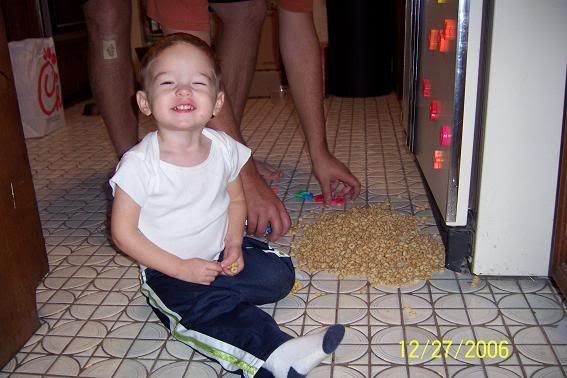 Maybe if I smile big she won't notice the pile of Cheerios on the floor!?