It's official...JD is a 2 year old. It's been an entire week since his birthday and we are showing our two's like never before!

JD's Interests at the Moment:
- blowing out candles (this might be labeled as an "obsession" as well)
- his loveys (blog coming soon...)
- T-Bee as he pronounces it (his favorite shows are Little Einsteins, Mickey Mouse Clubhouse, JoJo's Circus and Handy Manny)
- suckers (he's a sucker for DumDums)
- blowing his nose
- crying at the backdoor because it's STILL raining outside
- new friends

JD's Current Dislikes:
- baths (after two bathtub pooping incidents, he's not very fond of it right now...but there is light at the end of this tunnel; I can already see it thanks to all the new fun bath toys he has)
- diapers (we are STILL fighting over this)
- being told "No"

JD had a very good birthday this year. We had it at the Ruckus Room, where we rented out two rooms full of moon walks and the like for him. He played so hard. My normally shy, stand-offish child was in the middle of it all. His cheeks were so red because him and his CRAZY cousin were going 90 to nothing!! It was a lot of fun and JD had a BLAST!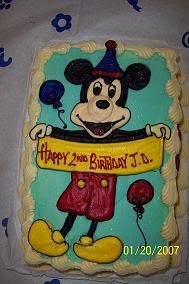 JD's Mischka Mouse (as he says it) Cake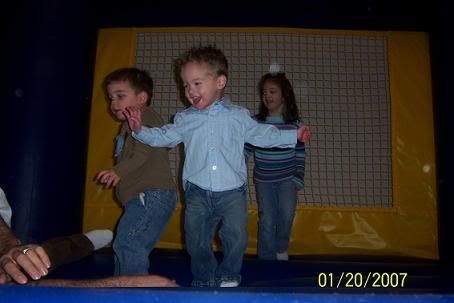 JD having a BLAST jumping with his cousins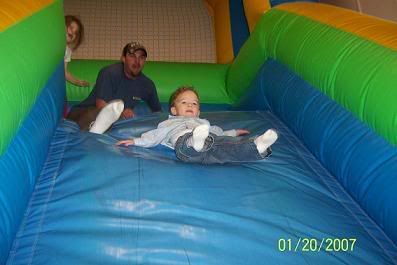 JD sliding - can we say, no fear?

JD and his KK

JD and FuFu

JD Blowing out the candles...only his FAVORITE part of the day!

Yummm...cake!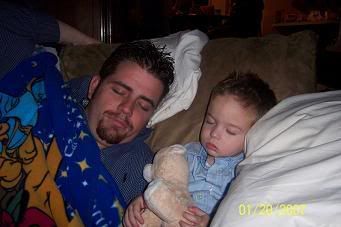 A VERY sleepy Uncle Kev and JD after the party

We were back at the Ruckus Room today for my neice's birthday! Lexi turned 5, which blows my mind. She is such an amazing little girl and I only hope I have a little one like here one day! Being her favorite Aunt (well, next to Aunt Lynn), I of course had to spoil her rotten. I bought a pink caboodle (yes, they still make them) and filled in with tons of make-up, press-on nails, nail polish, and hair stuff! I had so much fun shopping for her!! Tonight, we are having a big-girl slumber party at her house!! Lexi, Lezlie, FuFu, Aylie and I are all attending!!
Lezlie (JD's best bud) and JD
My other girly to shop for

The Birthday Girl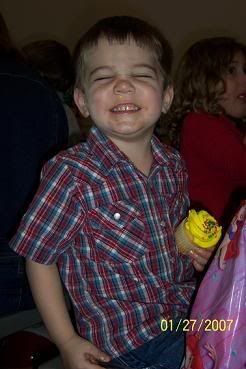 Nicky - or the TANK as we usually call him

Here are is one more picture of my little guy. What a stud! His shirt says, "Future Heartbreaker" - so true!