For some strange reason I am running in this new race and this stinks because I don't like to run. I have titled it...Who Can Finish 2006 First? I am pretty sure somehow I am a few days ahead of everyone else. I can't seem to slow down. I am going non-stop and I'm getting a wee bit worn out. Since my last update...life has only gotten crazier. Where do I start??
The family is great. JD is changing so much. He's talking up a storm. I understand a lot, and I can figure out for the most part what he wants on a daily basis. Here are some of his newest requests:
- "HELP Peeeeseeee!!" He gets frusterated and starts whining so I say, "JD use your words, tell mommy you need help." So now it comes out in a shriek but he does say peeeessse!!!
- "Unt Juice" This is I want juice or sometimes I hear "Unt Inlk" which is milk!! It's sooo cute!!
- "I wide it" I can thank my mom and Shan for this one. He loves riding on your back around the house like a horse and this is how he tells me. Once he's on he says, "Yee Haw"
- When he asks for something I ask him what he's suppose to say and he always says, "TankToo" and then I say no, say please first. Then when he gets his wish he says, "TankToo Elcome" together. It's hilarious!!!
- "Sorry Baby" He says this anytime he hurts you or pushes you away.
There are several more...but these are the cutest right now!! I love the talking stage (most of the time)!
I think he's also hitting a growth spurt, or atleast I hope so!! He's eating like crazy and not sleeping so well! We'll see...Jimmy and I have been spoiled rotten because JD has always been a great sleeper. He started sleeping throught the night at 3-1/2 months and hasn't ever stopped (I know...you hate me). Anyways...you get use to this to say the least, and now that he wakes up every morning between 5:30 and 6 and cries for 20 minutes had kinda thrown me off. Luckily, the last 3 nights he's gone back to sleep for several hours. We'll get through this...
The other big news for those who don't already know...I am pregnant again. Jimmy, JD, and I wlecome the newest member to this crazy family in July. We are so excited, but I'm already tired of being pregnant. If I could just go longer than and hour and a half without eating I'd be thrilled!!! But...no, as of right now I eat at least every 2 hours and by eat, I do mean a meal not a snack!! Ugh...Dear Santa, please send mommy a chef for Christmas!!!
We had a wonderful Thanksgiving this year. We spent it in Mississippi with Nana and PawPaw. We all just love it there. These are my grandparents for those who don't know the meaning behind Nana and PawPaw. They have a beautiful house with a yard that can't br throughly explored in just one day. JD had so much fun and misses his Nana and PawPaw so much. Luckily we will see them the day after Christmas!!! Here are a few photos from our Thanksgiving...
JD at the Olive Branch park with the ducks, which he loved!!!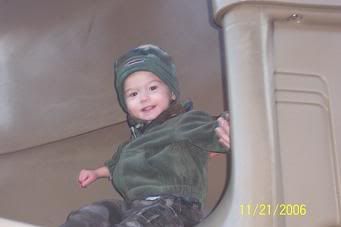 JD sliding...wheee!
JD with his Nana
JD and ToDo on Thanksgiving
JD and his Uncle Matt
JD and his Aunt ShanShan
A few days after getting home from Thanksgiving, we headed to Green Bay. For those of you who don't know, I don't do the whole winter thing. I live in Houston, cold is 55 in January!! So, Green Bay was beautiful but our relationship ends there, I'd rather keep it a summer romance! I saw snow for the first time ever and it
was
beautiful, cold, but beautiful. JD didn't think that highly of it though...too cold for him too!!! We went and saw Brett Favre get spanked by the NY Jets in a negative 6 degree Lambeau Field!! Jimmy's brother lives there and we dod have a good time, but I was so happy to return home. Believe me, the Houston cold weather welcomed me home nicely when we got off the plane!!!
JD eating his first and possible ONLY snow ball.
Our Happy (cold) Family