Yea...it's my FAVORITE TIME of year!! I literally wait all year to decorate and it begins ASAP. I normally start the evening of Thanksgiving, but this year we were out of town so I got it all done the day we got home!! I love everything about Christmas. I love the smell, the colors, the cheeriness and most of all the REASON. It took us a little longer to get out tree this year because we were gone several weekends in a row, but it's finally up!!! We started a new tradition this year by cutting our Christmas tree down. We've always had live trees but we usually just pick them up at the garden center. This year my mom, Tim, Shan, Matt, Susan, Jimmy, JD and I, and our friends Kate and John went to the Christmas Tree Farm and cut one down. We had such a wonderful time. JD loved the farm animals they had and really enjoyed the tractor ride. As adventurous as it sounds, cutting down your own tree really isn't all that difficult. The people at the farm take you on a tractor hayride to the trees, drop you off, give you the saw, and then pick up the tree once its down. I was a little worried because my dear hubby isn't one for sawing, but I was really impressed. It took all I had not to attack him then and there in front of family!!!
FuFu (Jimmy's mom) and JD
If we aren't going on the ride yet, can I pleeease have some more hot cocoa???
Dada and JD picking out a tree
We finally made it home with one 8-1/2 foot tree and one poinsetta. Jimmy had a busy weekend because we are having our annual Christmas parrty next weekend, so he was busy in the garage while I decorated. Of course this took a trip to Target because I got mad at our lights last year and threw them all away after Christmas. So 3 new strands later, our tree is up and decorated!!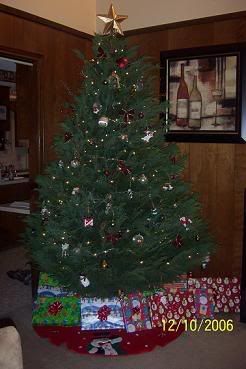 BEFORE JD got a hold of it (see bellow)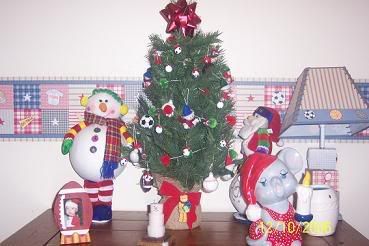 JD's tree in his room
This Christmas has already been a little different because JD is almost 2. As fun as it is, it's also a bit harder. Yesterday the following Christmas decorations were broken....
- a glass bowl and all 12 ornaments inside
- 3 glass ornaments taken from the tree and thrown across the kitchen floor
- a minature snowman from the fireplace
I'm not sure if our dustpan has ever been used so many times in one day!!!
Anyways...we are ready for Christmas in this house!!! I love this time of year....