So. I feel like I do a lot of posting on my boy. Maybe that's because he is so funny! And older so he happens to say A LOT of funny things, hourly. He's also so happy, all the time, just happy. And sweet. If I was to describe him in 3 words I'd say SWEET, BUSY, and SILLY. Seriously...he's so dang sweet. He constantly talks about how much he loves everyone. All that being said...
I *heart* that sweet little thing sleeping quietly upstairs right now. She was someone I wished for well before she ever made her appearance. I wanted a little girl so bad. I LOVED having a boy first! I wanted an older brother to watch over his younger sister that I also wanted so badly! I was beyond ecstatic when the doctor told me "it" was a "she". I am not ashamed to say that I needed to know what we were having in order to prepare myself not to be dissappointed with another boy. NOT because two boys aren't fun. It would be amazing to be a mom of boys, I know this b/c I LOVE that little man upstairs so much and I know how SPECIAL a mother and son's love is. I would be dissappointed because I wanted to raise a girl as well. I'm a girl, a very girly-girl. I love to shop. I love to wear makeup. I love having my nails painted. I like to be center-of-attention. I tend to be overly dramatic on most occasions. I enjoy watching sports but spend as much time critiquing their outfits and look as I do actually paying attention to what's happening. I am still a cheerleader at heart and check my old gym's cheer site occasionally. I am a girly-girly-girl! So...my sweet daughter was dreamt of long before she was ever a reality!
So, this post is being dedicated to her and all the sweetness (ok, drama) she brings to our lives. Y'all we are smitten by her. Now, we are also completely worn out by her too. She is just a handful! BUT, as much as she drives me insane (daily) and as happy as I am to put her in bed at night, I would not change a single thing about her. I can not imagine her being anything else. I don't think our lives would be nearly as entertaining. Where her brother keeps us LAUGHING constantly with his words, she does the same with her smiles, her attitude, her dancing, and her FITS! She is something else...
Words can't even begin to explain how much she already enjoys the spotlight. If we are watching tv or talking about something and start laughing, she immediately assumes we are laughing at her. She starts to laugh, a very fake laugh I might add, and this continues back and forth until we are all in stitches. She's also quite the dancer. it's hilarious b/c she can be in the middle of something (eating, playing, drinking from her sippy, ANYTHING) and the minute music starts playing whether on the computer or during a commercial, she starts to dance. She doesn't miss a beat. It's like an automatic response for her. Because of this, she really likes The City on MTV, ya know, because of all the music they play. She also assumes it's all about her. All the time. There is really no happy medium, no compromise whatsoever when she wants something. It's either give in or prepare to listen to a complete meltdown. I'm not exaggerating when I say on an average day, we have experienced 3 or 4 full facedown on the ground, screaming and crying, kicking of legs meltdown by noon. Really. Daily. BUT, when we are not having a meltdown, she's the happiest thing in the world. Again, there is no in between there either. She is either ALL smiles or a meltdown. Oh, she is too much!!!
She also has most of the men in her life completely wrapped around her finger. It's so funny to see that. I assumed that would be a given with her daddy, but it kind of surprises me to see it with her PawPaw and PaTim, especially her PaTim. He's the guy that doesn't really care of babies, 2+ absolutely, younger than that...not so much. That being said, Miss Kenz has him wrapped tighter and tighter around her finger everytime they see each other. It's so funny!
So...to wrap this post up...here are some pictures from today. Really, from a few minutes today. She is something else...
Playing with Bubba's paintbrushes. I'd like to think she's pretending they are make-up brushes.
She's getting so good with the camera...all smiles when it's out! FINALLY!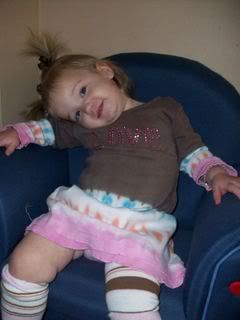 SOOOO SILLY!
Jimmy got her up from her nap and she was dressless...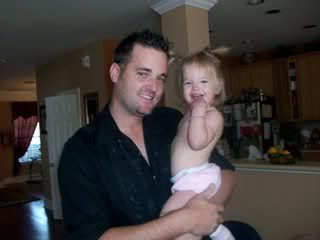 She LOVES her daddy!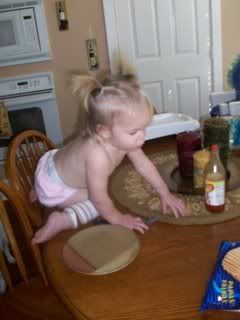 Her favorite place!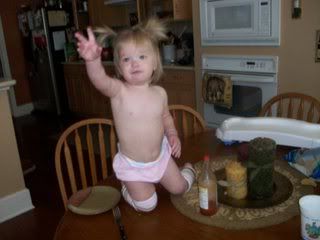 It's a daily fight keeping her off the table!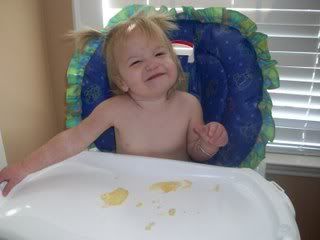 Can you tell she is a complete ham?