Happy Belated Birthday!!!
Tis true! My boy is an official 4 year old. Seriously?! How did this happen?! Goodness me...time is flying by. The saddest part? Right now JD really wants to grow up. So much so that at times when I tell him to wait he starts crying because, "Mama, but I really want to be big like Daddy and Uncle Matt right now!" Which is funny, that he cried about that. Haha.
He's all growed up and reminds me of this daily, whether he verablly tells me or shows me through his actions. He's getting so independent. But luckily, he still my little boy. He's a snuggler and loves to hug and be held. I enjoy this tremendously because MacKenzie is not into the cuddling. She's been nicknamed the "10 Seconds" because that's all you get. She'll hold her hands up or try to climb in your lap...for 10 seconds...and then she's done. Haha!
JD had a construction birthday party. It was a blast. We narrowed down our guest list this year to just the kiddos his age that he really knows. I asked what friends he wanted to invite and we invited those he really knows. I unfortunately did not take many pictures and I forgot to get those that my Nana took off her camera. So, instead I am stealing those my mom took and reposting here...
The table with the yummy cupcakes and dumptruck full of dirt (oreo cookies)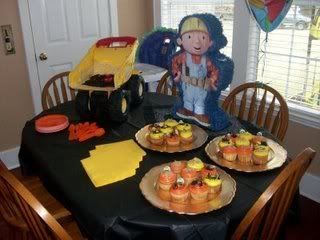 The Birthday Boy at the "painting station"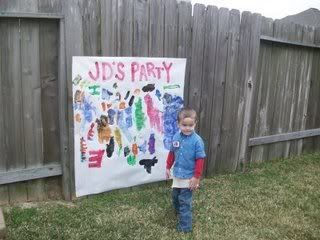 In his cute VANDAGRIFF CONSTRUCTION shirt
Pinata Time!
His friends waiting for their turn at the pinata
Sister in her MUDCAKE ORIGINALS Construction Outfit
I'd also like to wish a Happy Birthday to our wonderful Pa Tim!!! And a special Happy Birth-Day to the beautiful Annabeth Ellen Jones!!!! We are so happy you are here and I can not wait to meet you!! I am so excited about the fun times your mama has ahead of her. Girls are just something else!! That Big Brother of yours better watch out, you are going to be getting into all of his toys in NO TIME!!!! Love ya'll!!!