It has been a while since my last post and although I wish I was posting some funny story right now, that is not the case. Instead I am coming to you with a heavy heart. I come begging for prayers as a dear friend, someone I have blogged about before, the genius behind
Baby Wears Prada
, is sitting in a hospital room with her 17-month old daughter, Layla Grace.
After what was suppose to be a trip to TCH for what was thought to be GI issues, Shanna and Ryan have learned some devestating news. Their precious baby is not dealing with some constipation as previously thought. Instead a parents worst fear has been confirmed and althought the exact diagnosis is unknown, the words cancer...lukemia...brain tumor/neuroblastoma...and spread throughout have been tossed around.
My heart is breaking for both of them. Shanna and I were preggo together. We found out we were expecting around the same time and then learned we were due only a month apart. We share the same gyno so we got to do bloodwork together and countdown the days of miserableness together. We talk daily and IM for hours about everything from husbands and kids to our business hopes and dreams. She has brought more organziation to my clothing line than I could have thought possible. Our kids go to the same preschool and we catch up in the parking lots on Tuesdays and Thursdays. Sometimes we venture to Hobby Lobby and the mall with our youngest or enjoy free Grand Slams at Dennys. We have gotten to be pretty good friends in the last 8 months and Shanna has become someone I thoroughly enjoy being around and talking too. We have a lot more in common than I would have ever guessed a year ago. We have become friends. And because of this...with all the fun we share, I now to share her heartache. I hate feeling helpless and right now I feel utterly helpless. So, all I can do right this minute is ask for prayers and kind thoughts as Ryan and Shanna get settled into a room on the cancer floor of TCH.
Layla Grace has two beautiful big sisters that love her to pieces. Jenna is a GORGEOUS 8 year old that loves her sisters so much and is such a huge help. She in undoubtably worried sick over Layla. Claire is 2 (1 year and 1 month older than Layla) and although she probably doesn't understand what's going on, she is definitely missing her mommy, daddy, and "Yay-ya".
So please pray for the sweet family. Pray for wisdom on the doctor's part and strength for the parents. Pray for peace and comfort for sweet Layla. Pray for this family to be wrapped in a blanket of peace and love as they endure the battle ahead.
Layla and Claire shopping a few weeks back.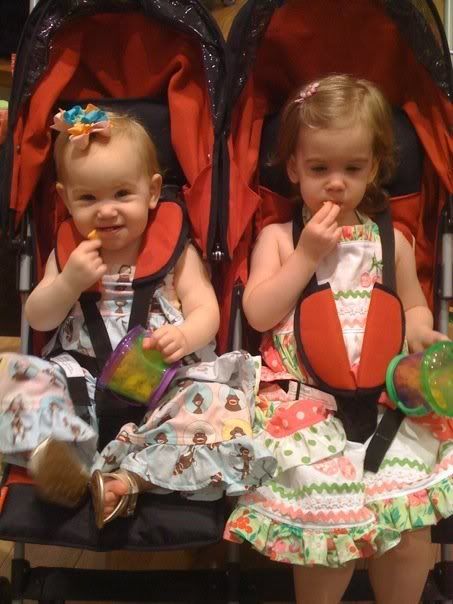 Layla in Daddy's arms at TCH today.
If you want to stay updated or would like to offer the Marsh family some prayers or words of encouragement you can follow them on
www.twitter.com/laylagrace
or txt "follow laylagrace" to 40404 for txt mssg updates.
And check back as I will post updates as well.